TCU overrated? Well, someone has to be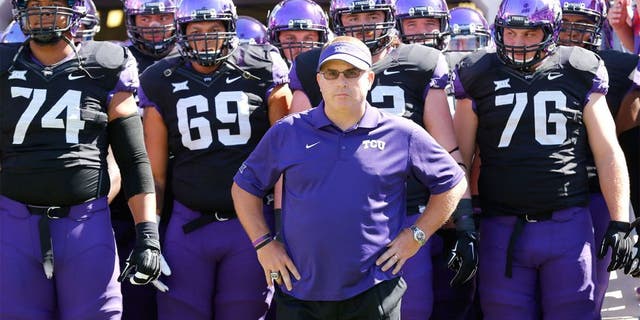 Sports Illustrated called TCU the most-overrated team in the Big 12.
Not exactly the kind of thing you'd expect of a team that went 12-1 a season ago and was seemingly overlooked and snubbed for college football's first four-team playoff.
But think about it -- someone has to be the most-overrated and it has to start with a team ranked highly. TCU is the only team that fits that criteria. TCU will likely start the season ranked in the top five. Perhaps Baylor will be in the top 15, but past that, there's no one close in the Big 12.
Also figure in the Horned Frogs are featuring a Heisman candidate in quarterback Trevone Boykin, meaning there will be plenty of eyes on Ft. Worth this season and are coming off a season where they smashed Ole Miss 42-3 in the Peach Bowl.
TCU does have a balanced schedule with road games at Minnesota, Kansas State, Oklahoma State and Oklahoma, but the Frogs get Baylor at home in the last regular season game of the year.
There's plenty to be excited about with TCU. It has 10 returning starters back on offense and it has coach Gary Patterson, who has always been a successful defensive coach, but apparently Sports Illustrated is thinking there will be some regression.
Photo Credit: Matthew Emmons-USA TODAY Sports