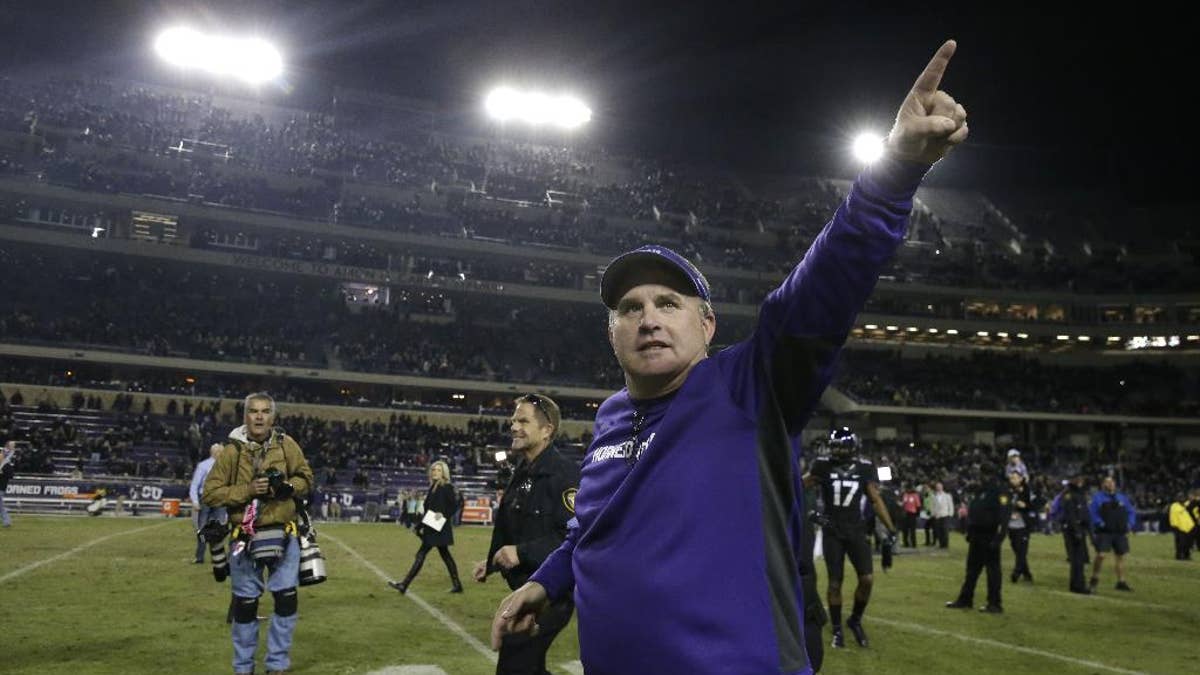 FORT WORTH, Texas – TCU coach Gary Patterson is well aware of that escalating debate centered on his No. 5 Horned Frogs and No. 6 Baylor.
Which one gets in the new four-team playoff if both win the rest of their games?
"Right now, we're just trying to get to 9-1," Patterson said Tuesday. "I can plead a lot better case if I win the next three ballgames."
After playing five ranked teams in a span of six weeks — with the only loss that epic 61-58 game at Baylor a month ago — the Horned Frogs (8-1, 5-1 Big 12) have three games left against teams without winning records. They play Saturday at Kansas (3-6, 1-5).
"I thought we went to this ... it was all about body of work, not about politicking and doing all the rest of it," Patterson said. "I just watch everybody say, 'well you've got to win by x-amount of points, you've got to impress the committee.'"
If TCU and Baylor both finish 11-1, the Bears would have the head-to-head victory.
The 12-person College Football Playoff selection committee wouldn't be bound by that tiebreaker when completing its final rankings Dec. 7 to determine the four teams in the playoffs. But Baylor would be the Big 12's designated team for any of the other four bowl games on New Year's Eve and New Year's Day outside the semifinal matchups.
"They should, they beat us, there's no questions asked, that's what the rule is," Patterson said. "But you still get a trophy for being (Big 12) co-champions, and that's the one thing that I can control."
The Frogs also play at Texas on Thanksgiving night and end the regular season Dec. 6 at home against Iowa State.
Baylor (8-1, 5-1), coming off an impressive 48-14 win at Oklahoma, has an open date before playing Oklahoma State, Texas Tech and No. 13 Kansas State. TCU beat the Wildcats 41-20 last weekend.
"I watch all the banter between TCU and Baylor. The bottom line is, I saw something (former Texas coach) Mack Brown tweeted out, we both need to enjoy the ride," Patterson said. "You've got two really good football teams. ... Both in the state of Texas, they just need to enjoy the ride, hopefully that we can both win out, win 11 games and have an opportunity to go do something like that."
Patterson was then asked if he was enjoying the ride.
"Yeah, for about 20 minutes after every ball game," he said. "There's a lot of good football teams out there. ... We've got to go play. I've always said that."
While the system is different now, Patterson recalled what the Frogs went through during their 2010 undefeated regular season that ended with a Rose Bowl victory.
TCU followed a 40-point win at No. 5 Utah by having to come back from an early two-touchdown deficit to beat San Diego State at home. That 40-35 victory actually dropped them behind Boise State in the BCS standings until the Broncos later lost in overtime at Nevada.
"We thought it was over, then Boise gets beat in Reno, then we're back in the Rose Bowl," Patterson said. "What I learned out of that experience was you just better take care of you, because that's all you have. ... We've just got to be able to be the best football team we can possibly be, especially knowing that nobody even thought about us eight weeks ago, maybe even four weeks ago."