Taylor Lewan: Number of hits on Marcus Mariota was 'disgusting'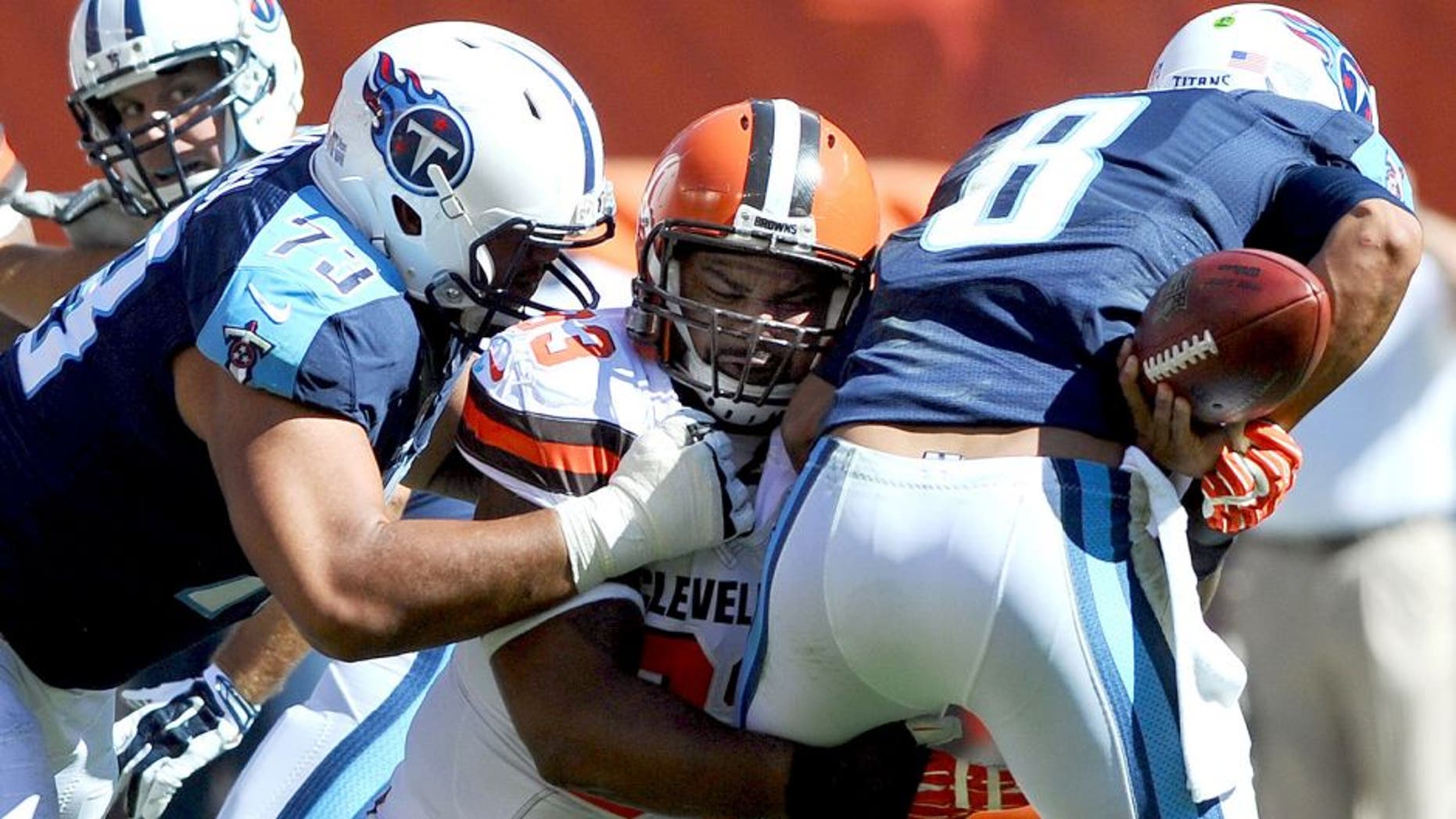 By the end of Sunday's loss to the Cleveland Browns, Tennessee Titans quarterback Marcus Mariota had been sacked seven times and hit 11 times. Despite injuring his ankle on one of the sacks, the rookie stayed in to finish the game.
A day after the loss, the team made clear that the second overall pick in the 2015 draft can't continue to absorb that kind of beating.
"He's a tough kid,'' Titans head coach Ken Whisenhunt said, per the team's official website. "I don't think you could have gotten him out of the game (at Cleveland).
"He took too many shots (Sunday), so obviously he is a little banged up, a little sore. But he is in good spirits, and he is doing OK."
Whisenhunt said the ankle injury isn't expected to keep Mariota from playing Week 3 against the Indianapolis Colts, but the Titans understand the need to protect their young quarterback better moving forward.
"It was just disgusting,'' left tackle Taylor Lewan said. "We have to do a better job of protecting. Seven sacks is sad and disturbing. To have a guy like Marcus on your team, he is a guy you want to play for, he is a guy you want to block for and to see him on the ground and to have him get picked up so many times, it's sad. We'll fix it."
After giving up just a pair of sacks Week 1 against the Tampa Bay Buccaneers, the Tennessee offensive line had a far more difficult time containing Cleveland's pass rush.
"It's unacceptable,'' left guard Byron Bell said. "We have to clean stuff up. Marcus is going to do well in this league, and he is going to continue to get better and be fine. We can't have him wondering if he's going to get hit every play. He has to be able to play with confidence back there, and we have to do a better job up front to keep him on his feet."
Tennessee tight end Delanie Walker said the team was fortunate Mariota wasn't injured more severely given the number of hits he took.
"(Mariota) is a warrior,'' Walker said. "He showed us a lot, and that he is not going to come out of the game. He took some big hits and those are things we don't want to happen.
"Some of the hits he took, those were some big hits. But those are things that just can't happen. Thank God he was able to get up and finish the game."
(h/t Tennessee Titans)