Taxpayers may pick up legal tab for cash-strapped Hernandez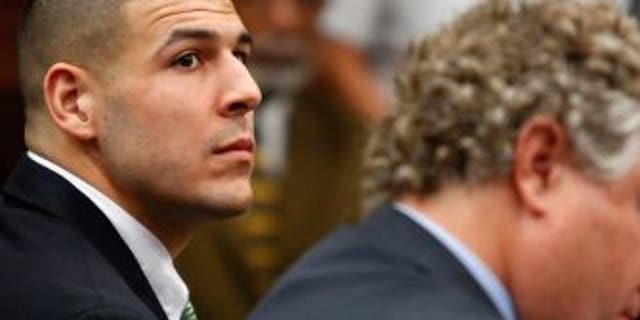 Aaron Hernandez, paid at least $11.2 million during three years with the New England Patriots, is having trouble coming up with the cash to pay his lawyers as he fights murder charges – but he may be able to keep the high-powered barristers and let taxpayers foot the bill.
Those lawyers would be paid at a rate far lower than they presumably are collecting from Hernandez, but the money would come out of the Massachusetts state budget instead of out of the former star player's bank account. And he would keep his highly regarded attorneys.
Hernandez, 24, faces two separate murder indictments accusing him of killing two men in South Boston in 2012 and another in North Attleboro, Mass., in 2013.
Hernandez has pleaded not guilty in both cases.
As FOX Sports first reported last week, two of Hernandez's lawyers filed a notice with the court in Boston in which they said the former Pro Bowl tight end was having trouble getting his hands on the money to pay them for their work in the case.
One of Hernandez's assets – the 11-room home he bought in 2012 for $1.3 million – is tied up in a civil suit filed by the family of one of the men he allegedly killed, and a judge has barred him from selling it. In addition, he is locked in a dispute with the Patriots over about $3.3 million his contract called for him to be paid in 2013 and 2014 – money the team has withheld after concluding that he violated the terms of the agreement.
Hernandez was jailed June 26, 2013, in the murder nine days earlier of Odin Lloyd, a 27-year-old semi-pro football player who was gunned down in a secluded field. During the investigation of Lloyd's killing, Boston investigators turned their focus to Hernandez in the July 16, 2012, shooting deaths of Daniel de Abreu, 29, and Safiro Furtado, 28, and the wounding of a third man in the city's theater district.
Hernandez was the focus of the investigation into Lloyd's death almost from the beginning – detectives found a set of car keys in the dead man's pants pocket. Those keys were for an SUV that had been rented by Hernandez.
Hernandez was initially represented by Michael Fee, a Boston attorney who focuses on white-collar cases. Fee almost immediately brought in Boston lawyers Charles Rankin and James Sultan, both graduates of Harvard Law School known for their criminal defense work.
The three have represented Hernandez at every court appearance in the Lloyd case, and last week – following his indictment in the deaths of de Abreu and Furtado – they appeared at his arraignment in the South Boston killings.
However, Rankin and Sultan filed a notice with the court that said Hernandez was having trouble coming up with the money to pay his attorneys and asking for time for him to make arrangements to do so.
But even if Hernandez can't come up with the money, there's a way he can keep Rankin and Sultan – and for taxpayers to cover the charges.
In Massachusetts, the state's Committee for Public Counsel Services appoints lawyers to represent people who are indigent. Rankin and Sultan are among a small group of attorneys who have been certified to handle murder cases, and so they could be appointed.
The state pays $100 an hour for attorneys who handle murder cases – far less than Rankin and Sultan likely command from paying clients. But if they were appointed, Hernandez would keep his high-powered legal team even if he can no longer afford the fees they command from paying customers.
One veteran Boston criminal defense lawyer predicted that's likely to happen.
"He's probably going to be declared indigent, and one or both of these attorneys will be appointed to represent him," said Stephen Weymouth, who is also among those certified to handle murder cases for defendants who cannot pay.
None of Hernandez's attorneys has responded to requests for comment from FOX Sports.
Here's how the process would work: Hernandez would file a motion with the court arguing that he is indigent – that he either doesn't have the money to pay his lawyers or that his assets are not available to him. The state probation department would then conduct an investigation, looking at his assets, his liabilities, and other factors. If it concludes that he doesn't have the ability to pay his attorneys, then the probation department would recommend to a judge that the Committee for Public Counsel Services appoint him one.
That could open the door for Rankin or Sultan – or both – to be appointed to represent him. Although the committee usually appoints only one lawyer, it is not unprecedented to appoint two. And one reason to keep the same lawyers would be to prevent new attorneys from having to spend months familiarizing themselves with the case.
The bulk of the committee's $165 million budget comes from the state's taxpayers, but defendants are expected to contribute at least nominally to their defense.
Hernandez, like all criminal defendants, would be expected to pay a $150 fee – and could be required to pay more. If a judge concludes that he's "indigent but able to contribute," he can be ordered to pay a portion of the lawyers' bills.
A judge would also approve all other expenses – fees for expert witnesses, for example – that the defense incurred.
It is not clear from the legal filings how much money Hernandez has, or how much he has already paid his attorneys.
Hernandez was paid at least $596,000 in 2010 by the Patriots, his rookie season, and at least $650,000 in 2011, and could have earned another $48,000 in incentives those two years. In 2012, he signed a five-year contract extension that paid him $6.74 million that year and another $3.25 million in 2013 before the team cut him.
The NFL players union, on behalf of Hernandez, filed a grievance with the NFL in an attempt to be paid an $82,000 offseason workout bonus due last summer and the final $3.25 million of his signing bonus, which was due this year. The Patriots withheld the money, contending that Hernandez violated the terms of his contract.
But even if the union prevails, the team has already agreed that before paying any of the money it would seek guidance from the judge handling a wrongful death civil lawsuit filed by Lloyd's family. That judge already entered an order preventing Hernandez from doing anything with his home until the civil case is settled.
The families of de Abreu and Furtado have also filed civil suits against Hernandez and may make similar requests to lock up Hernandez's available assets.
In their notice to the court, Rankin and Sultan said they were handling only the arraignment and related matters in the South Boston killing and asked for 60 days for Hernandez to make "financial arrangements to retain counsel."
Fee did not file a similar notice – and none of the lawyers has filed anything similar with the court in the Lloyd case.
Hernandez is due back in court June 16 in the Lloyd case and June 24 in the South Boston case.
FOX Sports 1 NFL Insider Mike Garafolo contributed to this report.