Tax bite sacks Flacco's status as NFL's highest-paid player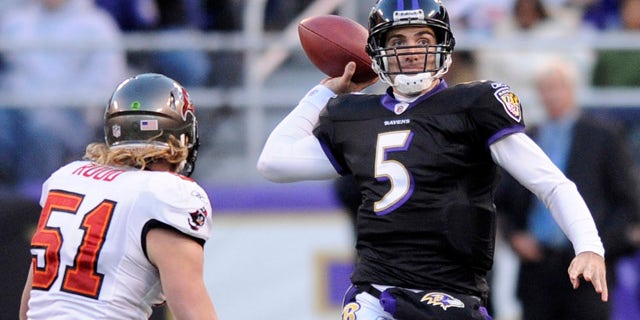 Not so fast, Joe Flacco — the Baltimore Raven might not be NFL's highest-paid player after all.
The Super Bowl XLVII MVP and the Ravens agreed to a six-year, $120.6 million contract this week, earning the New Jersey native an estimated $20.1 million per year. But being the highest paid player and earning the most after taxes are two very different things, according to Americans for Tax Reform, a Washington-based organization that advocates a single, flat-rate income tax.
In selecting to remain with Baltimore, Flacco is now set to pay a combined marginal income tax rate of 51.98 percent, comprised of federal, Maryland and Baltimore County income tax rates, as well as the Medicare tax. And that doesn't even include the so-called "jock tax," or Flacco's liability for games played out of state and other taxes levied against him, including Maryland's property tax.
Had Flacco sought a contract in states like Florida, Tennessee and Texas, he would have saved $1.72 million on the total marginal tax liability, according to Americans for Tax Reform.
"Flacco may have the distinction of being the highest paid player in NFL history, but New Orleans Saints' QB Drew Brees still earns more after-tax pay," the organization said in a news release.
Brees' contract, which was signed before last season, is a five-year, $100 million deal that pays roughly $20 million per season. But after applying the marginal combined tax rate of 49.4 percent to the quarterback's contract, Brees stands to make $470,000 more after-tax pay than Flacco, the newly crowned "highest paid player" of the NFL.
"Consider how much more Brees will earn if Louisiana Gov. Bobby Jindal successfully eliminates the Pelican State's income tax," the release continues. "Don't be surprised if players begin to consider their tax liabilities even more now when making the decision of which team to ultimately sign with."
Meanwhile, Joe Linta, Flacco's agent, told FoxNews.com that his client is a "better bargain hunter" than Brees.
"Not only is Joe a great QB, but he's a better bargain hunter and shopper than Drew, and thus, will have more," Linta said in an email.