Tate admits to giving less than full effort, promises to find 'fire'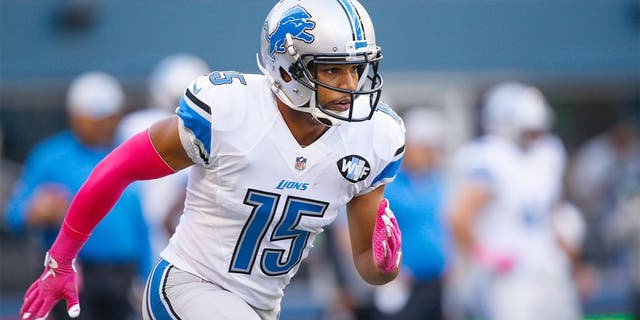 NEWYou can now listen to Fox News articles!
The Detroit Lions have been bad this season, and several players in particular haven't been themselves lately. Wide receiver Golden Tate is one who admits he could be doing more to help the Lions win.
Tate said the following about his effort during Detroit's 42-17 loss to the Cardinals last Sunday, via Kyle Meinke of MLive.com:
There were just a couple of plays uncharacteristic of myself, where there were times I felt like I could have been a little better. I could have helped the situation out. It took me digging deep to go get it, but I feel like I'm back on track and I'm ready to bring my 'A' game and reach my potential.

I wouldn't say our team gave up by any means, at all. We just got to bring that fire. We just got to find that fire, and that's part of my role, is to bring that fire to this offense -- and that's what I'm going to do. And so starting in practice, leading by example in practice, and then taking that out on the field on Sunday. Just bringing that dog out. We just got to find that dog in us, and we're going to be all right.
Tate said he talked with Jim Caldwell and the Lions' coaching staff about finding the "fire" he had last year, according to MLive.com. The sixth-year pro is confident it will return, but the numbers tell a different story.
Last season, Tate was averaging 83.2 yards per game and 13.4 yards per catch in the Lions' offense. Those figures have slipped to 52.8 yards per game and 10.2 yards per catch in 2015. He's still searching for his first touchdown of the season, too.
Tate, like many of his teammates, has a lot to prove in the weeks to come. If the Lions are going to climb out of their 0-5 hole to start the season, Detroit's biggest stars will have to do most of the heavy lifting.
MORE NEWS: Want stories delivered to you? Sign up for our NFL newsletters.