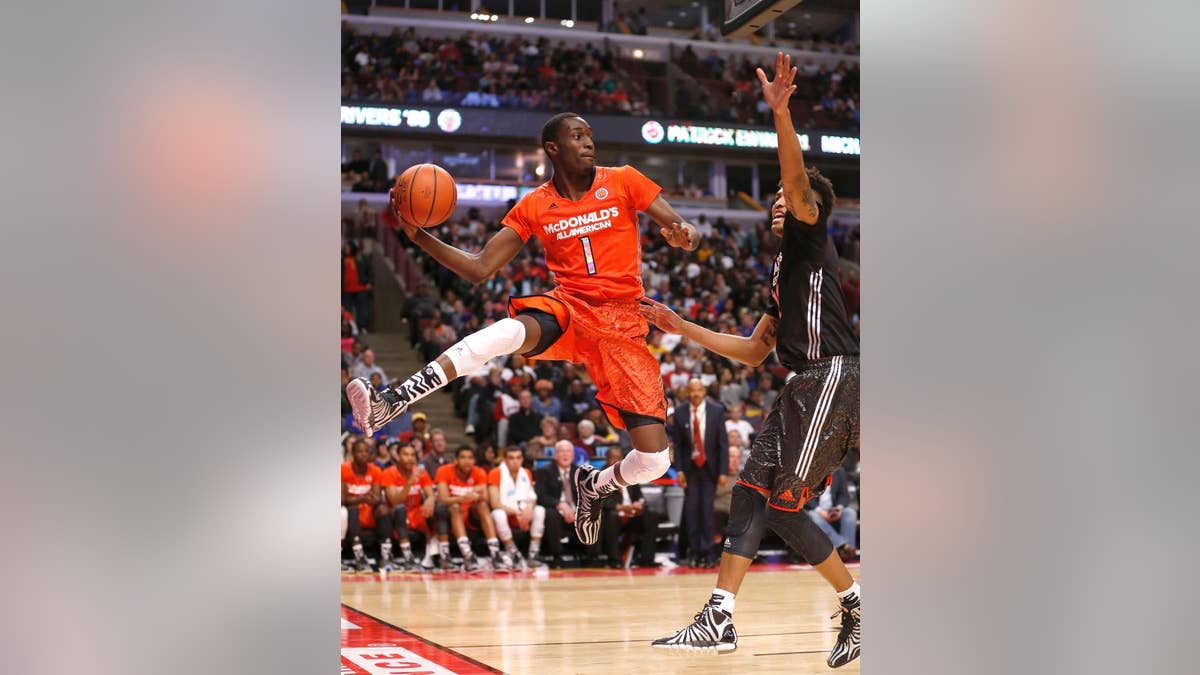 CHAPEL HILL, N.C. – Theo Pinson knows how to guarantee himself a significant role as a freshman at North Carolina — play defense.
The 6-foot-6 swingman arrived this summer to help fill the Tar Heels' need for backcourt depth and bolster UNC's defense on the perimeter, where opponents blistered the Tar Heels in last season's final two games.
"You just have to worry about making the right play and playing defense at all times," Pinson said. "That's Basketball 101, basically."
Pinson joins fellow McDonald's All-Americans Joel Berry at point guard and swingman Justin Jackson in a touted recruiting class. All three will help replenish a perimeter that was shorthanded last year and leaned on rising junior Marcus Paige, an all-Atlantic Coast Conference player.
Pinson, who is from Greensboro and played at High Point's Wesleyan Christian Academy, was versatile enough to score, rebound and distribute in high school. He could provide a bigger jolt on the other end of the court at UNC.
Keith Gatlin, his high school coach and a former Maryland player, said Pinson defended point guards, shooting guards and small forwards at Wesleyan.
"You can't put him in a box and say he's a defensive player because he can handle it, he can pass it, he can shoot it — he can do so many things," Gatlin said. "Theo is a two-way player that likes to play both sides of the floor. The way Carolina likes to get up and down the floor, it suits him perfectly."
His mother, Barbara Pinson, described her son as a humble kid with "a special IQ for the game."
"If he sees you've run up and down the court a couple of times and hadn't touched the ball, he'll make a special effort to make sure you're involved, too," she said. "He has a good mindset to know when to make a play as well as try to make a play for other people."
During recruiting, Pinson said Indiana coach Tom Crean pointed out his potential to disrupt offenses by getting his hands in passing lanes for deflections that take opponents out of rhythm.
If that creates steals at UNC, it will ignite the break in coach Roy Williams' fast-paced attack.
"It can take time off the shot clock," Pinson said. "It can destroy a whole lot of stuff you don't even think about. ... You focus on stopping the man, but if you get the ball, they can't do nothing with it."
Paige has seen Pinson's potential during summer pickup games.
"He shows flashes of being really good defensively," he said. "He's really quick and athletic and can use his length ... We have a lot of guys that are rangy athletes and are capable of pressuring the ball. I think Theo's going to help us a lot in that regard."
Last year's Tar Heels never had eventual NBA first-round draft pick P.J. Hairston because of NCAA rule violations. Rising junior J.P. Tokoto took the lead defensively on the wing, but departed senior Leslie McDonald was never a stopper, while Paige and rising sophomore Nate Britt are only 6-1.
That limited the Tar Heels' options, which showed in their two NCAA tournament games. First they allowed a smaller guard in Providence's Bryce Cotton to score 36 points, then gave up 24 points to the bigger DeAndre Kane in the Iowa State loss two days later.
If Pinson can defend both kinds of players on the college level, it could help the Tar Heels make a deeper push in March.
"I'm not worried about going out there and trying to score 50 points, which I know won't happen," Pinson said. "If we win and win the national championship, which is my No. 1 goal coming into next year, we'll be all right. Everybody will get recognized."
___
Follow Aaron Beard on Twitter at http://www.twitter.com/aaronbeardap