Tampa Bay Rays at Toronto Blue Jays game preview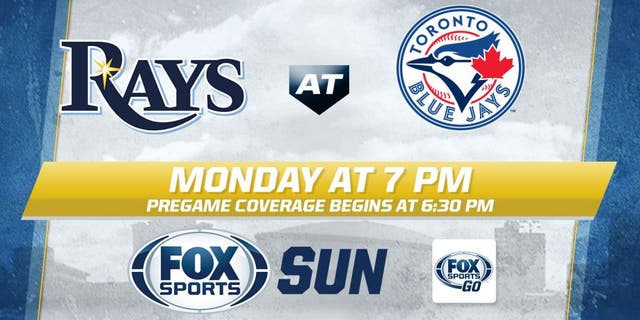 NEWYou can now listen to Fox News articles!
TV: FOX Sports Sun
TIME: Coverage begins at 6:30 p.m. ET
The Toronto Blue Jays would prefer to avoid developing a bad habit when it comes to J.A. Happ's starts against the Tampa Bay Rays.
The only two losses they've suffered this season in games Happ has started came at the hands of the Rays, but their recent run production for the left-hander may keep it from becoming a trend in Monday night's opener of a three-game set at Rogers Centre.
Despite the fact Happ (5-0, 2.05 ERA) has put in a quality start in both his outings versus Tampa Bay (16-19) this season, Toronto has lost twice in the late innings and the southpaw has walked away with a no-decision each time.
Happ tossed six innings of two-run ball in his season debut April 6 and left with a one-run lead, but the Rays scored three times in the eighth for a 5-3 victory. He wasn't in line for a victory April 30 when he departed a tie game after tossing 6 2/3 innings before the Blue Jays (19-20) lost 4-3 on Curt Casali's walkoff single in the ninth.
Plating runs for Happ has been a bit more generous in his two starts since that loss. Toronto has scored 15 times with Happ on the mound in those outings, though it hasn't exactly needed those numbers with him turning in two solid performances.
Happ's last start was a gem in which he tossed 8 2/3 innings and gave up six hits with five strikeouts in a 4-0 win at San Francisco on Tuesday. He threw 75 of 111 pitches for strikes and permitted just three runners past first base until the ninth.
He is 12-1 with a 1.68 ERA in 16 starts dating to Aug. 19.
"Happ was tremendous," manager John Gibbons said Tuesday. "He's a different cat now. He's on a nice little roll. The last couple of months last year, this year, it has been a pleasure to watch. He's a pitcher now, he's not a thrower."
Toronto could use another solid start from him after losing three of four since his win over the Giants. The Jays dropped the last two of a weekend series at Texas to close a 3-3 trip and will head back out on the road for seven games after this series.
The finale of the road swing got a little heated when Rangers second baseman Rougned Odor punched Jose Bautista after the Blue Jays slugger took him out with a hard slide. A feud has simmered between the clubs since Bautista's bat flip in last year's AL Division Series boiled over into a wild brawl that led to eight ejections.
"I was pretty surprised," Bautista said after the 7-6 loss. "I mean, obviously, that's the only reason that he got me and he got me pretty good, so I have to give him that. It takes a little bit bigger man to knock me down."
The Rays would welcome a strong starting performance after a 1-5 stretch in which their rotation has posted a 5.79 ERA while allowing opposing hitters to bat .290.
One of Tampa Bay's losses in that span came in left-hander Drew Smyly's worst outing of the season. Smyly (1-4, 3.63 ERA) was touched for six runs and 10 hits in a 6-4 loss at Seattle on Tuesday.
"Just a bad night," Smyly said. "They hit every bad pitch I made. They hit a few good pitches I made. I just wasn't very good. My stuff wasn't very sharp."
Except for an eight-run outburst in his only win this season at the New York Yankees on April 24, the Rays have scored eight combined runs for him in the other six starts.