Tampa Bay Rays at Colorado Rockies game preview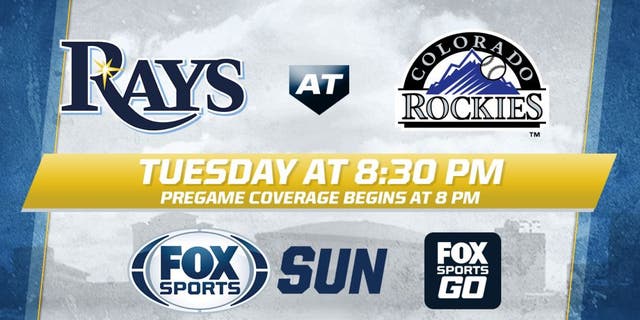 NEWYou can now listen to Fox News articles!
TV: FOX Sports Sun
Time: Pregame coverage begins at 8 p.m.
CAN'T GET TO A TV? WATCH IT LIVE ON FOX SPORTS GO
The Tampa Bay Rays continue their series against the Colorado Rockies.
DENVER -- Corey Dickerson, a former Colorado Rockies outfielder, will try to help the Tampa Bay Rays end their road skid Tuesday when he faces his former team.
Tampa Bay is riding an 11-game road losing streak following a 7-4 defeat against the Rockies on Monday night. The Rays dropped a franchise-record 13 consecutive road games in 2013, and they lost 12 straight away games in 2006.
Dickerson, who began his career with the Rockies and was traded to the Rays on Jan. 28 in the four-play deal that brought reliever Jake McGee to Colorado, will start for the Rays. The left-handed-hitting Dickerson, who has made 27 starts in left field, one in right field and 41 at designated hitter, wasn't in Tampa Bay's lineup Monday against Rockies left-hander Tyler Anderson.
Dickerson pinch-hit in the eighth after Evan Longoria's leadoff triple and struck out against Jason Motte -- the first of three consecutive batters Motte fanned to preserve a 5-4 lead. Dickerson is hitless in his past 11 at-bats following a season-high six-game hitting streak during which he hit .429 with a .478 on-base percentage and a .571 slugging percentage. He was 9-for-21 with three doubles and one RBI in that span.
In 122 games with the Rockies at Coors Field, Dickerson hit .355 (142-for-400) with 24 homers and 78 RBIs and a .675 slugging percentage.
Overall, Dickerson is hitting .223 in 81 games for the Rays with 14 doubles, 13 homers and 35 RBIs. He has a .274 on-base percentage and a .438 slugging percentage.
"I think it's been a learning process for him," Rays manager Kevin Cash said. "I think over the last three weeks or so, he's done a nice job. He's made some adjustments. He's gotten some more hits. His average has spiked up.
"It's not an easy thing to do to come to a new league, especially the American League East and be in that division and learn a bunch of new pitchers. They attack you a little differently than maybe they do here in the National League. It's been a challenge for him, but we have all the confidence in the world that Corey is going to continue to have success and figure things out.
"(He is) much more on the upswing than not. He'll get his opportunities to hit in his old ballpark. We know he has a lot of success in this park, and hopefully we'll use it to our advantage."
On Tuesday, Dickerson will face Tyler Chatwood. The Colorado right-hander is 8-5 with a 3.29 ERA in 16 starts, 10 of which the Rockies have won. He will be making his third start since coming off the disabled list July 5 following a mid-back strain.
Chatwood pitched five innings July 5 at San Francisco, allowing three hits and two runs, one earned, in five innings but walking four and striking out four in a no-decision as the Rockies beat the Giants 7-3.
On July 10, Chatwood was the losing pitcher as the Rockies fell 10-3 to the Phillies. He threw five innings and gave up eight hits and four runs with three walks and two strikeouts.
"I just didn't have command," Chatwood said of his outing against the Phillies. "I fell behind a lot of people, so I was kind of battling myself. You're going to have games like that, and you got to get through it. I don't think I exploded in that game. I think I gave up eight singles."
Chatwood threw a light bullpen session when the Rockies held a workout Thursday in Atlanta, where they began play after the All-Star break. He then threw a full-go bullpen session Saturday.
Chatwood said he lowered his sight line in his side work and felt good about the results. That minor adjustment, Chatwood said, was made to help him get ahead in counts.
"That's the biggest thing," he said. "I've been falling behind. It's hard to pitch like that. You can't pitch up in the zone."
After undergoing his second Tommy John surgery in July 2014, Chatwood began throwing a cutter in lieu of a slider, because the former pitch puts less strain on his elbow. For the most part, Chatwood has had good results with the cutter.
"I felt like it's a pitch I could command pretty well (to) both sides of the plate," he said. "My last start, I didn't have command of it. I didn't throw very many for a strike. And if I did, I left it up. It was kind of getting big and (I was) not staying through it. It's hard to throw when you fall behind; it's a contact pitch. Fall behind and try to get back even (in the count) with the fastballs and they were hitting it."
Chatwood will be opposed by Rays rookie Blake Snell (1-4, 3.69 ERA).
Snell lost each of his past two starts, including a home defeat to the Los Angeles Angels in his most recent outing, when he gave up two runs on four hits in six innings on July 7. He has never faced the Rockies.
Chatwood is 0-1 with a 7.36 ERA in two career starts against Tampa Bay, both of them in 2011.