Tampa Bay Rays at Boston Red Sox game preview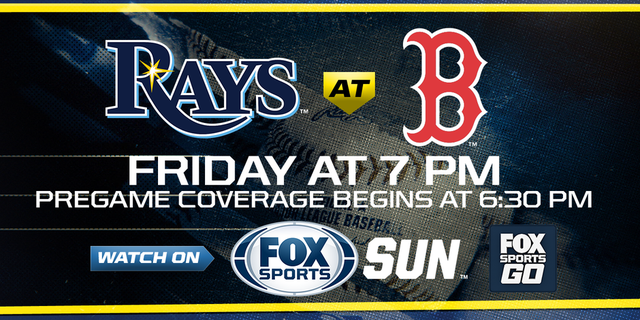 NEWYou can now listen to Fox News articles!
TV: FOX Sports Sun
TIME:Pregame coverage begins at 6:30 p.m.
BOSTON -- It is still early, but Tampa Bay Rays ace Chris Archer looks noticeably better than he did one season ago.
Folks around the majors are already taking notice, including Boston Red Sox manager John Farrell.
Farrell credited a change in Archer's pitching motion for the improvement ahead of the opener of a four-game series between Tampa Bay and Boston on Friday night at Fenway Park.
"It looks like he's smoothed his delivery out a little bit," Farrell said. "Last year I thought there was a little bit of a, maybe not as fluid as he's showing right now."
Archer, who went 9-19 with a 4.02 ERA in 33 starts in 2016, is 1-0 with a 2.45 ERA and 13 strikeouts through two starts this season, allowing two earned in each of his outings for Tampa Bay (5-5).
The 28-year-old former All-Star struck out eight and allowed five hits and three walks in a 7 2/3-inning no-decision against the Toronto Blue Jays last Saturday.
The Rays are making their first trip to Boston since slugger David Ortiz retired after last season.
"It'll be strange for sure," Tampa Bay manager Kevin Cash said. "He's out of it. I don't think anybody can replace him."
Boston (5-4) may not have Big Papi, but the Red Sox will counter Archer with a pretty good pitcher of their own, the reigning American League Cy Young Award winner, Rick Porcello.
Porcello (1-0, 4.38 ERA) has the major's longest streak of consecutive quality starts (15) and starts of at least six innings (20).
The Red Sox are 19-3 in Porcello's past 22 starts. He went 13-1 with a 2.97 ERA at Fenway last season and won on Opening Day with a three-run, six-hit outing against Pittsburgh.
Last time out, Porcello allowed four runs (three earned) on 11 hits and a walk but struck out eight in a six-inning no-decision at Detroit last Sunday.
In six starts against the Rays last season, Porcello was 5-0 with a 3.07 ERA with 46 strikeouts and just five walks over 41 innings. He is 10-4 with a 3.03 ERA in 17 career starts against Tampa Bay.
Three of Brad Miller's five hits in 20 at-bats against Porcello have been homers, and Miller has seven RBIs against him.
Evan Longoria is batting .250 (10-for-45) with a homer and five RBIs against Porcello, and Corey Dickerson is 7-for-19 (.368) with one homer and two RBIs. Porcello has fanned Longoria 12 times, his highest strikeout total against any individual hitter.
Archer can't boast as much success against his opponent Friday as Porcello can.
In 16 career starts against Boston -- his second-most against one opponent -- Archer is just 1-11 with a 5.38 ERA. At Fenway, Archer is 0-3 with a 7.30 ERA in five starts.
But Farrell doesn't believe those numbers paint a completely accurate picture.
"He's always had tremendous stuff, but the consistency to it has returned," Farrell said.
Mookie Betts has hammered Archer, going 8-for-23 (.348) with two homers and six RBIs. Dustin Pedroia is 8-for-35 (.229) with a pair of RBIs. Pablo Sandoval (3-for-10) has a homer and two RBIs opposite Archer.
Boston went 12-7 in the season series against Tampa Bay last season, winning seven of the final 10 meetings.