Tampa Bay Rays at Baltimore Orioles game preview (4/24/17)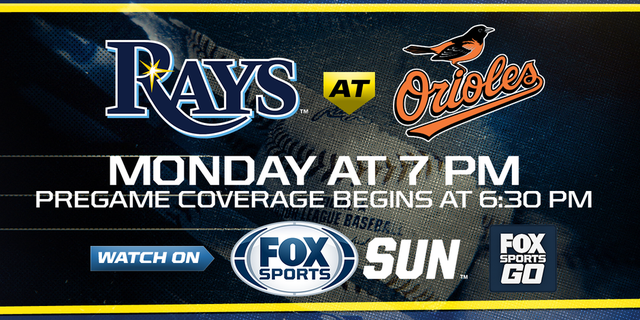 NEWYou can now listen to Fox News articles!
TV: FOX Sports Sun
TIME: Pregame coverage begins at 6:30 p.m.
BALTIMORE -- The Baltimore Orioles will look to keep their early-season momentum going against division opponents in a three-game series against the Tampa Bay Rays that begins Monday at Camden Yards.
The Orioles (12-5) have yet to lose a series this year and are 10-4 against their American League East foes. The Rays, meanwhile, are just 1-6 on the road.
Baltimore won two of three against the Boston Red Sox over the weekend and is playing with confidence. However, Orioles manager Buck Showalter is not putting too much stock in the standings this early in the season.
"We have a team playing real well coming in here," Showalter said about the Rays. "Their starting pitching is as good as anybody in baseball. You look at anybody's schedule and it's going to be a challenge. Coming out of spring training, we knew it was important to stay engaged in the games in the division because, and I don't want to say buried, but have too many things spinning the other way."
Right-hander Ubaldo Jimenez (1-0, 5.51 ERA) starts the series opener against Tampa Bay. On Wednesday against the Cincinnati Reds, Jimenez had one of his best outings since signing with the Orioles in 2014. He threw 7 2/3 scoreless innings, allowing just two hits.
That was a big improvement from his previous two starts, in which he didn't pitch past the fifth inning either time.
"It's good when you start hitting the zone right away," Jimenez said. "I needed a start like this. I was able to get on top of the ball and get them to hit ground balls."
Tampa Bay lost two of three games against the Houston Astros over the weekend. The next challenge will be even more difficult against Baltimore.
The Rays open the series with ace Chris Archer (2-0, 3.20 ERA). Archer has recorded 27 strikeouts against just eight walks.
"He's been in a good spot," Tampa Bay manager Kevin Cash said. "I don't know if he's found a different gear or not, but he's been in a very good spot early on this year. He's been efficient with his pitches. He's gotten a lot of big outs in some crucial situations in the game."
Archer will face a powerful Orioles lineup that has slugged 23 home runs. Baltimore also has managed to win despite missing some key players because of injuries, including No. 1 starter Chris Tillman, closer Zach Britton and utility outfielder Joey Rickard.
"That's why your depth is so important," Showalter said. "Once somebody, say Rickard, comes back, it seems like something else happens. Zach comes back, something else happens. Over the course of the season, it's how you handle those things and how you survive through those times."
The Rays have also battled through injuries. Right-hander Jake Odorizzi went on the 10-day disabled April 16 with a strained left hamstring. He could return Wednesday. Right-hander Brad Boxberger (flexor strain) is not expected back until June, and right-hander Tommy Hunter also had to leave the game Saturday with a tight right calf and was placed on the 10-day DL on Sunday.
Archer enters his Monday start with a 3-6 record and a 4.50 ERA in 14 career games (13 starts) against the Orioles. Jimenez is 5-2 with a 3.19 ERA in eight career starts vs. the Rays.