Tampa Bay Buccaneers preview (No. 31): Winston provides some hope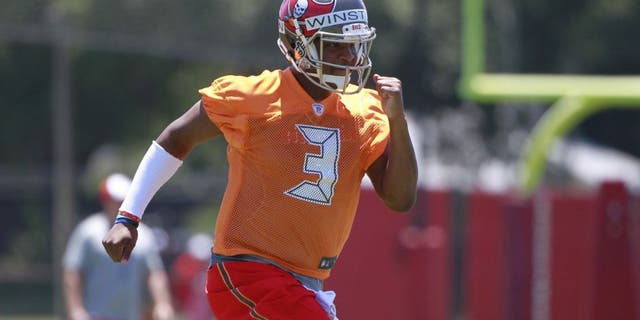 Our 2015 NFL preview series ranks every team, from worst to first. Today: the No. 31 Buccaneers.
2014 record: 2-14
Head coach: Lovie Smith (second year, 83-77 overall coaching record, 3-3 playoffs)
Key arrivals: *Jameis Winston (quarterback), *Donovan Smith (offensive tackle), *Ali Marpet (guard), Bruce Carter (linebacker), Henry Melton (defensive tackle), Chris Conte (safety), George Johnson (defensive end)
(*denotes rookie)
Key departures: Anthony Collins (offensive tackle), Josh McCown (quarterback), Michael Johnson (defensive end), Dashon Goldson (safety), Adrian Clayborn (defensive end)
2015 schedule (ET)
Sept. 13: Tennessee, 4:25 p.m.
Sept. 20: at New Orleans, 1 p.m.
Sept 27: at Houston, 1 p.m.
Oct. 4: Carolina, 1 p.m.
Oct. 11: Jacksonville, 1 p.m.
Oct. 25: at Washington, 1 p.m.
Nov. 1: at Atlanta, 1 p.m.
Nov. 8: N.Y. Giants, 4:05 p.m.
Nov. 15: Dallas, 1 p.m.
Nov. 22: at Philadelphia, 1 p.m.
Nov. 29: at Indianapolis, 1 p.m.
Dec. 6: Atlanta, 1 p.m.
Dec. 13: New Orleans, 1 p.m.
Dec. 17: at St. Louis, 8:25 p.m.
Dec. 27: Chicago, 1 p.m.
Jan. 3: at Carolina, 1 p.m.
TRAINING CAMP QUESTION: How will Jameis Winston progress now that's been named starting quarterback?
Unlike in Tennessee where head coach Ken Whisenhunt immediately tabbed 2015 first-round pick Marcus Mariota as his starter post-draft, Lovie Smith waited a little longer to make Winston the starter. That's still bad news for third-year veteran Mike Glennon, who was hoping to get a look -- at least in the early part of the preseason. Bucs offensive coordinator Dirk Koetter told FOX Sports that he believes the offseason competition has helped accelerate Winston's development. "Mike has been through three offenses in three years," Koetter said. "Jameis will tell you he watches Mike and learns from Mike."
IF EVERYTHING GOES RIGHT
Winston impressed the Bucs with both his throws and his work ethic during minicamp and OTAs. He is, though, joining a 2-14 team almost devoid of star talent, so the best-case scenario can't be better than six or seven wins. Second-year wideout Mike Evans is probably the team's best player, but it sure would be nice to have a running game to help out the rookie QB, and Tampa Bay didn't have a 500-yard rusher last season. So everything going right is relative here, and it's more about how much progress Winston makes than wins and losses.
IF EVERYTHING GOES WRONG
Everyone seems pretty certain Winston gets it on the field, but the Bucs can't afford his college off-field problems to resurface. They need a strong arm and a strong leader, and anything that undermines the latter could undermine the season. Aside from that, Evans and fellow 1,000-yard receiver Vincent Jackson must stay healthy until the team can find a running back and get its 25th-ranked defense headed in the right direction. Somehow, four or five wins seems more likely than six or seven.
BREAKOUT PLAYER: Defensive end Jacquies Smith
After forgettable brief stints with Miami, Buffalo and the New York Jets, the undersized Smith (6-foot-2 and 260 pounds) found a home in Tampa Bay last season. He led the Buccaneers in sacks with 6.5 and is now slated to play right end as Tampa Bay's primary pass rusher.
CIRCLE THE DATE GAME: Week 3, at Houston (1 p.m. ET/Sept. 27)
Rookie quarterback Jameis Winston recently told the NFL's website that the defensive player he looks forward to facing the most is J.J. Watt. Winston may get more of an up-close-and-personal encounter than he'd like if the Bucs can't block Houston's all-world defensive end.
ALEX MARVEZ'S PREDICTION: 4-12, fourth place
The selection of Winston with the top pick in the 2015 went a long way toward helping the Buccaneers leave a disastrous 2014 campaign in the past. Winston is far from a finished product -- but he provides future hope for a franchise in desperate need of it coming off a 2-14 record. Winston has left his controversial off-field past at Florida State behind him and impressed veteran teammates with his attitude since arriving. He must, though, prove more prudent in his decision-making in the passing game after an interception-plagued junior season with the Seminoles. Winston isn't the only rookie Tampa Bay hopes will make an immediate splash on offense. Two second-round picks -- left tackle Donovan Smith and right guard Ali Marpet -- are projected for starting spots. That duo has its work cut out for it, as does a rushing game where oft-injured running back Doug Martin must stay healthy to take some of the pressure off Winston. The defense has two blue-chip players in defensive tackle Gerald McCoy and outside linebacker Lavonte David to build around. The expectation is that the unit will execute better in its second season playing the Tampa 2 scheme that Smith installed, but the Bucs must find a way to generate pass-rush from a non-descript group of ends.