Tampa Bay Buccaneers at San Francisco 49ers game preview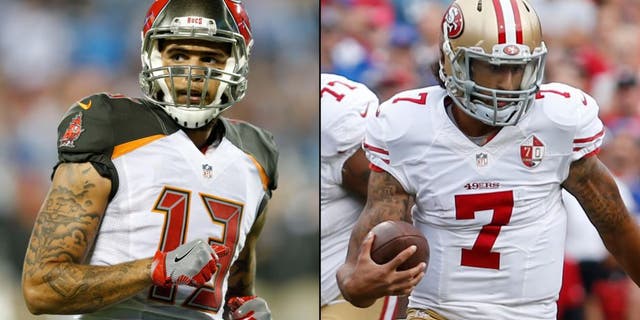 TV: FOX
Time: Sunday, 4:05 p.m.
SANTA CLARA, Calif. (AP) -- After getting run over for three straight weeks by backs such as Ezekiel Elliott, David Johnson and LeSean McCoy, the beleaguered San Francisco 49ers' run defense may have caught a needed break.
Tampa Bay back Doug Martin suffered a setback in his rehabilitation from a hamstring injury and might not be able to make it back in time for the Buccaneers (2-3) to play Sunday in San Francisco (1-5).
It might not matter much since the Niners also allowed 100-yard games by lesser backs such as Fozzy Whitaker and Christine Michael during a five-game run of futility on run defense that has San Francisco on pace to allow the most yards rushing in a season since the 1985 Houston Oilers.
"We're all stunned," safety Antoine Bethea said. "We haven't been playing to our potential, haven't been playing to the standard we set for ourselves."
Things might have bottomed out last week in Buffalo when McCoy ran for 140 yards and three TDs and the Bills gained 312 yards in all on the ground in the second-worst rushing defense performance in 49ers history.
"Quite frankly, I'm embarrassed by what happened on this past Sunday," defensive coordinator Jim O'Neil said.
While missing Martin could be a break for San Francisco, backup Jacquizz Rodgers is coming off the best game of his career with 30 carries for 101 yards two weeks ago against Carolina.
That was the first time all season that the Bucs topped 100 yards rushing as a team in a game.
"Your run game gets better if you run it more," Tampa Bay coach Dirk Koetter said. "You've got to make yards, you've got to have efficient runs and you've got to be moving the chains. If you're doing that and you're running it more and you're repeating runs, your line and your backs both have a tendency to get stronger as you go."
Here are some other things to watch on Sunday:
KAP, PART 2
Colin Kaepernick made his first start at quarterback for the 49ers in nearly a year last week. He went 8-for-11 for 135 yards in the first half against the Bills, but struggled in the second half when he was just 5-for-18 for 52 yards and took three sacks. Kaepernick did show flashes as a scrambler with 66 yards rushing on eight carries, but knows it's a fine line of when to stay in the pocket and when to run.
"There were a couple times that I wish I would have hung in a little bit more, but those are always split-second decisions that it's always easier to look back and say, `I should have done this. I should have done that,'" he said.
NO ACTION FOR JACKSON
The Bucs will be without receiver Vincent Jackson, who was placed on IR this week with an injured left knee. The three-time Pro Bowler had 15 catches for 173 yards in five games this season. His absence will allow defenses to pay even more attention to star receiver Mike Evans.
"When you lose a guy like Vincent to your team, he means a lot to our team because of the kind of pro he is, the kind of player he is and the kind of man he is," Koetter said.
The Bucs do hope to get defensive tackle Gerald McCoy back from a calf injury that forced him to miss the previous game.
THIN BACKFIELD
The Niners also could be without their starting back with Carlos Hyde expected to miss the game with a shoulder injury. That will leave the running duties mostly to Mike Davis and Shaun Draughn. Davis averages just 1.7 yards per carry on 47 career runs, while Draughn averages just 2.1 yards per carry this season and 3.3 in his career.
BAY AREA DEBUT
Bucs QB Jameis Winston is set to play his first game ever in the San Francisco Bay area. But if he had to do it all over again, he might be more familiar with the region. Winston was accepted to Stanford out of high school and visited the school, but decided to sign with Florida State instead. Despite winning a Heisman Trophy and national championship with the Seminoles, Winston said in retrospect he might have chosen differently.
"Stanford is a great school," he said. "You are who you put yourself around. I'd have loved the opportunity to go to Stanford and be with some of my friends out there."
RIGHT THE SHIP
After the Niners opened the season with a 28-0 home win over the Rams, little has gone right for first-year coach Chip Kelly. The team has lost five straight games for the first time since 2010 and is in danger of its first-six game skid since 2008, which led to Mike Nolan's firing.
"The deal in this league is everything being so close, it's in the details," Kelly said. "It's in the little tiny things that separate winning and losing in this game and winning and losing is extremely close."