Tampa Bay Buccaneers at Carolina Panthers game preview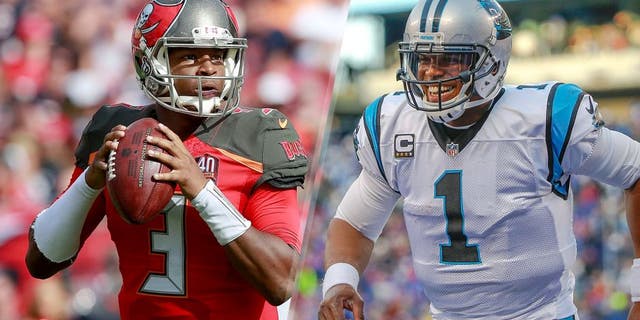 NEWYou can now listen to Fox News articles!
TV: FOX
Time: Sunday, 4:25 p.m.
The saddest 14-1 football team you'll ever see trudged through a week of practice after its bid for an undefeated regular season came to an end.
If the Carolina Panthers can't regroup, they could miss out on home-field advantage throughout the NFC playoffs, too.
A home win over reeling Tampa Bay on Sunday would guarantee Carolina the No. 1 seed and send the Buccaneers to a record-setting fifth consecutive last-place finish in the NFC South.
The Panthers not only suffered their first defeat last week, their 20-13 loss at Atlanta put even more significance on the matchup with Tampa Bay (6-9). Coach Ron Rivera no longer has the option of resting players with Carolina needing a win to remove any question of it securing the top seed.
A loss and an Arizona victory over Seattle would put both clubs at 14-2, but the Cardinals would hold the tiebreaker with an 11-1 record in NFC play compared to the Panthers' 10-2 mark.
It's not as if Carolina will be scoreboard-watching, though. It can't finish any worse than the No. 2 seed and will host a divisional playoff game in two weeks no matter how things turn out Sunday.
"You find out what you are made of," Rivera said. "It's really how you handle the adversity. We talk about the character in the locker room all of the time. ... Well, how do we handle this and how we grow from it? Those are all important things. We will be tested. This is a very interesting week.
"Our goal is to win the Super Bowl. That's the vision. That's the destination. But we still have to take the journey. This is a bump in that journey."
Cam Newton won't have last week's game on any of his highlight reels. The MVP candidate went 17 of 30 for 142 yards and failed to throw a touchdown pass after tossing 13 in his previous three.
He also lost a fumble on the final drive with Carolina having a chance to at least send it to overtime.
"There are no magic words that need to be said," Newton said Sunday. "We don't wave a magic wand or anything like that. We got our (butt) kicked, and to a degree we deserved it. Offensively, defensively, and special teams - I'm talking with a mirror in front of my face.
"We are 14-1 right now. We put ourselves in the situation where we can use this as fuel."
The Panthers could be considered lucky that the Bucs didn't deal them a loss in Week 4. Though Tampa Bay fell 37-23, it held Carolina to a season-low 244 yards, and Newton's 124 passing yards represent his lowest total this year.
He had 51 rushing to account for one more yard than Jonathan Stewart, who hasn't played in the last two because of a foot injury. If the Panthers had beaten the Falcons, Rivera likely would've held Stewart out of this contest as well to rest up for the playoffs.
However, Fozzy Whittaker isn't expected to play because of an ankle injury, meaning Stewart could be forced into action given the importance of the contest.
The Bucs are trying to avoid becoming the first NFC team since the 1970 merger to finish last in its division for five consecutive years. They've lost three straight and are coming off a 26-21 home defeat to Chicago.
Tampa Bay committed three turnovers, tying their highest total since a season-worst five cost them in the first meeting with Carolina. Doug Martin fumbled twice after losing three fumbles in the first 14.
"It's disappointing to say the least. We know what's happened the last three games, but we have one more opportunity," coach Lovie Smith said. "I think as we leave, you're going to remember the last thing that happened. We're playing one of the best teams in football. We get one more chance to make a lot of these things look a lot better than they do right now."
There are some positives. Martin, who had 106 yards and a touchdown in the first meeting, is second in the NFL in rushing with 1,354 yards. He has an outside shot to win the title with a big game and a poor effort from leader Adrian Peterson.
Jameis Winston has had a solid rookie year with 22 touchdown passes and five more rushing, helping Tampa match its victory total from the previous two seasons combined.
Mike Evans' touchdowns are down from 12 to three, but he's had no sophomore slump while exceeding his 2014 totals in receptions (70 to 68) and yards (1,107-1,051).
Vincent Jackson had season highs of 10 catches and 147 yards with a touchdown grab against the Panthers, but he won't play for the sixth time this year because of a knee injury.
Carolina is seeking a sixth straight victory over the Bucs.
"Obviously they have a lot to play for, to have home-field advantage throughout the playoffs," Tampa Bay safety Keith Tandy said. "We're going to get their best shot. Every time we play, the score doesn't always show up, but it's always a physical game. We know how that game will be."