Takkarist McKinley says 'fine me later' after giving the most emotional speech of the NFL Draft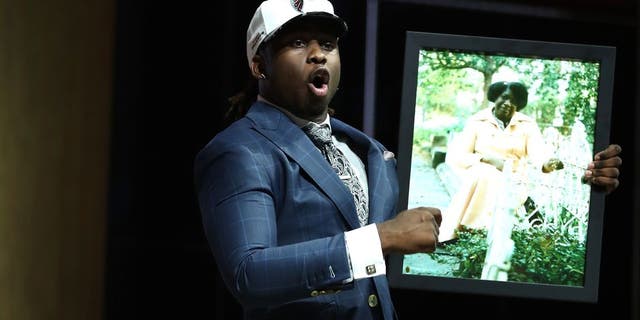 NEWYou can now listen to Fox News articles!
Takkarist McKinley was drafted by the Atlanta Falcons with the 26th pick in the first round of the NFL Draft on Thursday night, and the defensive lineman from UCLA was overcome by emotion.
McKinley, a Northern California native, took the stage with a large framed picture of his late grandmother andsaid he'd promisedher he'd live his dream right before she died.
"I made a promise to her and I stuck to it! I made that promise, man,"McKinley said on NFL Network. "I told her! Before she passed away, I was going to live my dream! I was gonna go D-I! I was gonna get out of Richmond, I was gonna get out of Oakland! I was gonna go to the NFL! I made that promise to her, man! Thirty seconds later she passed away! And this is who I do it for! This is who I do it for, man!" he said, holding up the picture.
"C'mon, man! God-D -- N! Get to the damn quarterback! We gonna get to the quarterback!"
McKinley then dropped an F-bomb and shouted "Fine me later!" before NFL Network's Deion Sanders wrapped an arm around him and said that while his emotion waspowerful, he'd need to harness it. McKinley, holding back tears, thanked Sanders as he regained his composure.
The Falcons traded the No. 31 overall pick and third- and seventh-round picks to Seattle to move up in the draft for McKinley, who had 10 sacks and 18 tackles for loss in 2016.McKinley (6-2, 250) will be paired with 2016 sacks leader Vic Beasley, the team's first-round pick in 2015, to lead the Atlanta pass rush.
The Associated Press contributed to this report.
Copyright The Associated Press. All rights reserved.