Take a tour of Ford Performance's state-of-the-art Tech Trailer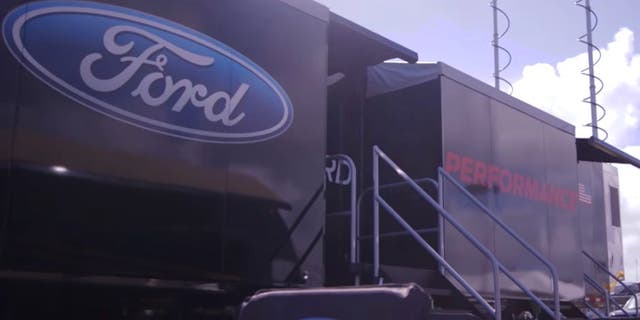 NASCAR is an ever-changing sport, and with a constant look toward the future comes a variety of technological enhancements.
In 2017, Ford Performance has advanced how they communicate as a company with their state-of-the-art Tech Trailer, which serves as the at-track headquarters as a resource and data hub for Blue Oval teams each race weekend.
The Tech Trailer helps Ford teams receive the latest information from practice, qualifying and the race by providing an incredibly faster method of data delivery.
Ford has gone to Victory Lane in the Monster Energy Series on five occasions so far this season, including Ricky Stenhouse Jr.s first career Cup win at Talladega Superspeedway.
I would say that technology is here as much as any other form of motorsports, maybe in a different way, but the amount of engineering that goes into these cars, the amount of data, and the amount of analysis that is used grows more and more every day, and it takes a lot to keep up with it and stay ahead, said Mark Rushbrook, Ford Performance Motorsports Engineering Manager.
Before the Tech Trailer that debuted last October at Dover International Speedway, Travis Geisler, Team Penskes NASCAR competition director, says that communication was certainly an issue.
I can tell you before the trailer was there the struggle that we had with networks and sharing information, getting the technology thats available into the hands of the guys who actually need to apply it and make the car better, was really a battle for us, Geisler admitted. This is something that everybody discussed as a priority.Ford stepped up and made the Tech Trailer happen and its something that were able to realize the gains from every weekend.
During a recent interview with FOXSports.com, Tony Gibson, crew chief for Kurt Busch and the 2017 Daytona 500-winning No. 41 Stewart-Haas Racing team, indicated just how much emphasis Ford Performance puts on them to work together as one manufacturer.
Ford Performance does a really good job of making us work together and be one big group of racers, Gibson said. Weve never really had that before with other manufacturers, so its really nice to have a company like Ford Performance to help guide us and make us feel more friendly to one another.
As Ford Performance has changed the way teams communicate with each other at the track, take an inside look at the Tech Trailer below.