Tait Fletcher didn't want to end up like 'tired old fighter' Ken Shamrock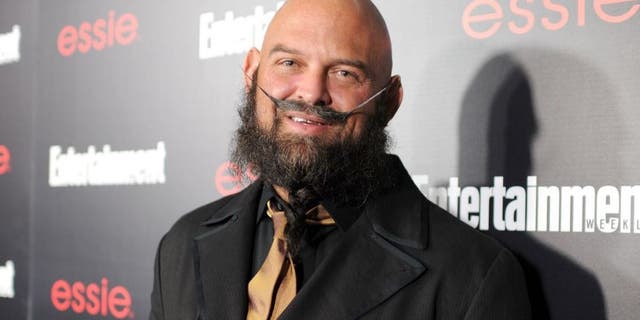 To many UFC fans, Tait Fletcher may best be remembered as the competitor who got into a shouting match with his coach Ken Shamrock during the third season of "The Ultimate Fighter."
The two fighters were at odds from the early part of the season, but Fletcher looks back on his time with Shamrock with a much different perspective because that moment may have been the exact moment when he decided that it was time to move on from mixed martial arts.
In a new series produced exclusively for UFC Fight Pass called "Where Are They Now?" several past performers from "The Ultimate Fighter" were interviewed about their time on the show and what they are doing now, years later.
During the episode featuring Fletcher, the New Mexico native commented on the profound way he figured out what he didn't want to do in life while watching Shamrock clutch onto the last threads of a flailing MMA career that started even before UFC 1 took place in 1993.
"Ken was a tired old fighter that was done, basically, and just trying to hang on for all he could. It's tough, he was a guy that taught me a lot of lessons. He taught me where I didn't want to end up," Fletcher said. "That desperate struggle for more and more."
Expanding on that statement while speaking to FOX Sports recently, Fletcher said he wasn't trying to take a dig at Shamrock with the comment as much as he was pointing out how that altercation a decade ago let him know that he didn't want to be in the same position when he was the same age as his reality show coach.
"I often use people that are 10 or 15 years older than me as a canary down the mineshaft. In mining, they would put canaries in cages and send them down the mineshaft to see if it suitable for humans to work in. They'd pull the canaries out a couple of days later and if the canaries were dead, people couldn't go down there. I look at the future like if I was a bouncer and I look 10 years down the road. What would it be like to be a 40-year old bouncer? Does that look awesome? Do I want that life? So I kind of gauge and discern if that's where I want to be in my life," Fletcher explained.
"So that thing with Ken, looking at him and looking at what his life was, this kind of single modality and trying to grasp onto this thing that was very yesterday."
Fletcher says the other catalyst that led to his exit from fighting was a conversation he had with UFC president Dana White on the show, in which he was telling him about his past experience as a boxer.
"Dana (White) was really instrumental, and he probably doesn't remember this, but he would talk about when he was a younger guy and he was a boxer. He was a pretty good boxer, and then he would look at guys who were really good boxers who were in the same gym as he was who would go through so much, getting beat up and the damage they would take. He decided from there to go into management and then to promoting because he thought the guys at the top level, it's not sweet enough for the squeeze, for what it's worth," Fletcher said.
"I started looking at the UFC and I had been fighting for like five years at that point and the guys that were there still outside of a Chuck Liddell or somebody like that, but the people that were there most regularly were guys like Herb Dean or Bruce Buffer or the ring girls. Those people had longevity, and I thought there's no longevity in this."
Fletcher says he had to "bravely face his own ego" and realize that he probably wasn't going to be a world champion any time soon and that even if he ended up in the UFC, there were no guarantees how long that would last.
So Fletcher retired from the sport in 2008 and began pursuing other interests outside of the cage.
He's become a very successful actor and stuntman with roles in series like "Breaking Bad" as well as parts in "Jurassic World" and "Sicario." Fletcher also co-owns Caveman Coffee -- a locally owned, gourmet coffee brand that he started with fellow UFC veteran Keith Jardine. Plus, Fletcher has a podcast called "Pirate Life" and always seems to have a few different oars in the water at any one time.
Still, nearly eight years after he retired, Fletcher says there are still days where he truly misses fighting and that it took him a long time after calling it a career before he could even step foot in a gym without thinking about returning to the cage.
"Unequivocally I do, and it was a long transition," Fletcher said. "I couldn't go to the gym for a long time because I would go and I would watch this beautiful expression that all these young guys are having punching each other in the head during hard sparring sessions, and there's a craving to be there.
It was like I was a voyeur peaking in on a life that wasn't mine anymore. It's a weird thing and I didn't like it all. -- Tait Fletcher
"It's a bittersweet idea. I'm super grateful for the time I had. I'm super grateful for the Fertittas and Dana White in particular and all the people in the shadows that make the UFC what it is and it's something I'll always miss, but those are the hard things about being a man, I think. You have to take the hard lessons and then you have to look at honestly where you are now and say it's going to burn a little bit when I swallow it, but I can't be in the same place anymore."
The good news is Fletcher has plenty to keep him busy these days. In addition to his acting roles, podcast and restaurants that he runs, Fletcher is also working on a book and expanding Caveman Coffee into several major chain establishments. He may not be fighting anymore, but Fletcher is still battling for the crown as the most active fighter outside the cage that the sport has ever known.