Syracuse puts up game effort, loses 27-10 to No. 22 Duke on late rally by Blue Devils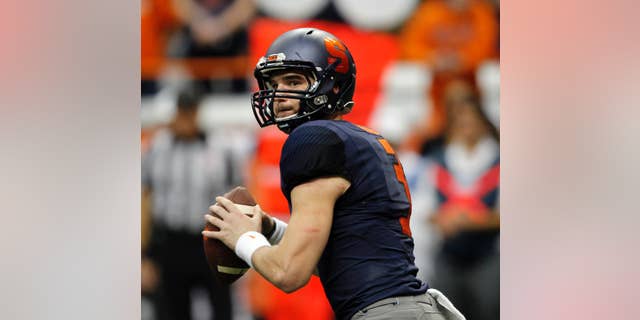 SYRACUSE, N.Y. – This wasn't the way Syracuse's seniors wanted to go out at home.
Playing No. 22 Duke even for three quarters, the injury-riddled Orange gave up a crushing 52-yard punt return to Jamison Crowder that broke open a tie game as the Blue Devils beat Syracuse 27-10 on Saturday with a late rally.
Syracuse (3-7, 1-5 Atlantic Coast Conference) lost for the seventh time in eight games, and with just two games remaining in the regular season lost a chance to reach six wins and play in the postseason for the fourth time in five years. The Orange finished the season 1-5 at home, its worst record in the Carrier Dome since posting a 1-6 mark under Greg Robinson in 2007.
The goal before the season was eight victories. Too many injuries helped derail those lofty aspirations.
"It hurts. It's a difficult situation cause that's one of those goals we wanted to come back and reach," coach Scott Shafer said. "But we didn't, so what are you going to do, cry over spilt milk? We wanted to win eight and we didn't win eight. When you come up short, you're disappointed — unless you make excuses."
The Syracuse defense limited Duke to 259 yards offensively, 163 below its average.
Crowder's return broke a 10-10 tie and started a fourth-quarter rally that produced 17 points in 5:32.
"Fortunately, we were able to get that spark in the fourth quarter," Crowder said. "It came late, but we were able to take the lead and get the win."
Anthony Boone threw two touchdowns to Issac Blakeney, including a 54-yarder midway through the fourth quarter, and Ross Martin kicked two field goals for Duke (8-1, 4-1 Atlantic Coast Conference, No. 22 CFP).
Boone is now 18-1 as a starter in the regular season for Duke, which won its fourth straight and stayed on target to reach the ACC championship game.
The Blue Devils entered the game averaging 35.7 points and 422 yards that was almost evenly balanced between the pass and run. They finished with just 98 yards on the ground against a defense that also batted down five of Boone's throws.
The Blue Devils, who beat Pitt last week in double overtime, had seven three-and-outs in a game that featured 16 punts.
"Their defense was really physical," said Boone, who finished 15 of 33 for 161 yards and two TDs passing with just his fourth interception of the season. "Their front did a good job stopping our bread and butter, which is the run game."
The injury-riddled Orange had 12 players out, including quarterbacks Terrel Hunt and AJ Long, three offensive linemen, and middle linebacker Marqez Hodge. Standout left tackle Sean Hickey limped to the bench early in the second quarter with the score tied 3-3 but returned in the second half.
"It's been kind of upsetting. You always want to win a game you play," Syracuse senior nose tackle Eric Crume said. "It's kind of hard to see a lot of guys go down, especially guys that are key contributors. We still have to go out there and play whether guys are healthy or not. It's still in our control. We control our own destiny."
Redshirt freshman Austin Wilson made his second career start for Syracuse, but fourth-string sophomore Mitch Kimble kept the Orange in the game. Kimble finished 6 of 13 for 37 yards passing and gained 42 yards on 10 carries and scored his first career touchdown.
The Syracuse offense came alive in the third behind Kimble, who did not play last year, played only a few snaps late against Wake Forest three weeks ago, and had never completed a pass in college.
Seemingly unfazed by the moment and with the Carrier Dome crowd roaring, Kimble drove the Orange 67 yards in nine plays.
After a near fumble on a handoff that set up a third-and-6, Kimble foiled an all-out Duke blitz with a 19-yard completion to Jarrod West, then scored on an 8-yard keeper over right tackle to knot the game at 10-10.
Syracuse was pinned deep in its own territory by a booming punt by Will Monday that was downed at the Syracuse 1-yard line in the last minute of the third quarter, and that tilt in field position eventually bit the Orange.
After Syracuse went three-and-out, Syracuse's Brandon Reddish intercepted Boone at the Syracuse 2. When the Orange couldn't gain a first down, Crowder struck.
"I knew coming in looking at the tape that we were going to be in a battle with their defense," Duke coach David Cutcliffe said. "They made us play. Our offense wasn't working, but it found a way to make plays."
___
Follow Kekis on Twitter at http://www.twitter.com/Greek1947