Symmonds wins 800 meters at Hayward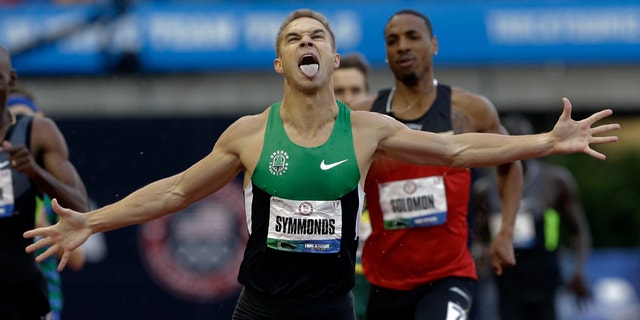 EUGENE, Ore. – As Nick Symmonds crossed the finish line in the 800 meters, he stuck out his tongue and smirked before outstretching his arms in victory.
The picture-perfect moment was so like Symmonds, who has become the showman of U.S. track and field, making headlines for a date with hotel heiress Paris Hilton, and his outspoken criticism of the sport's restrictions on the display of sponsor logos.
Symmonds backed up his larger-than-life personality with a thrilling performance at the U.S. Olympic trials at Hayward Field on Monday night.
Symmonds won the 800 in 1:43.92, in front of Khadevis Robinson in 1:44.64 and Duane Solomon in 1:44.65. All three earned a place on the U.S. team for the London Games.
It was Symmonds' fifth straight U.S. championship in the event.
He trailed at the start before surging for the final 100 meters for the win. The rain-soaked crowd at Hayward went wild.
"Every time I cross that line, I can't even explain the relief," he said.
Symmonds, who went to Division III Willamette University, has become a fixture in track-crazy Eugene, running as part of the Oregon Track Club. He moved to the area in 2006 to train.
Four years ago Symmonds became part of Hayward lore when he highlighted an Oregon sweep in the 800 at the Olympic trials. Symmonds won, followed by Oregon Duck Andrew Wheating and fellow OTC teammate Christian Smith for the trip to Beijing.
Symmonds didn't advance out of the semifinals in his Olympic debut, something that still eats at him.
"That bitter feeling of not making the finals sticks in my mouth, and there's no better way to erase that than going out and winning a medal in London," Symmonds said.
Symmonds finished fifth in the 800 at the world championships last year in Daegu.
"I've got to be just a little bit ahead of that in London," he said.
Earlier this year Symmonds garnered attention when he auctioned space on his upper arm on eBay, offering to wear a temporary tattoo with the name of the highest bidder.
The stunt wasn't so much to make money as it was to make a point. Symmonds is a vocal critic of what he says are the "antiquated" sponsorship rules of track and field's international ruling body, the IAAF, and to a lesser extent, the guidelines of USA Track & Field. The rules restrict the display of some logos by athletes during meets, sometimes resulting in the creative use of duct tape on clothes and shoes.
The space on Symmonds' shoulder commanded $11,100 from a Wisconsin-based active lifestyle marketing firm, Hanson Dodge Creative.
In most events this season, including the Prefontaine Classic Diamond League event at Hayward earlier this month, Symmonds has worn a bandage on his arm where the tattoo would be, calling attention to it.
Just before the start of the trials, Symmonds also became fodder for gossip columns for his date with Hilton.
Symmonds had been unabashed about wanting to meet her, and they finally got together recently for drinks at the famed Beverly Hilton Hotel, fittingly.
Hilton and Symmonds exchanged numbers and they've been texting back and forth. There were rumors she might be at Hayward for Monday's final, but she wasn't spotted.
Symmonds sneaked in a reference to Hilton in the post-race press conference Monday, waxing about how his career has allowed him to travel around the world and go on some "incredible dates."
Robinson, the veteran of the trio at 35, chided Symmonds: "What kind of program you on? We're just at the track with our coach."