Sweet sweep: Kyle Busch completes weekend of dominance at Indy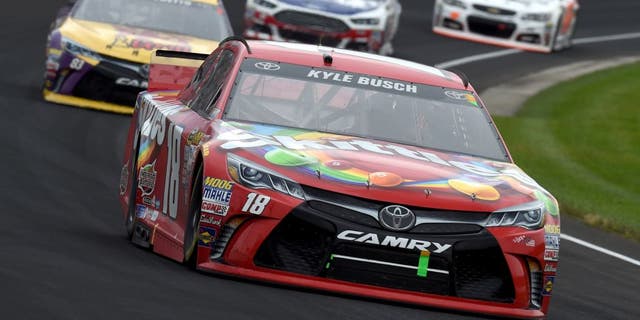 NEWYou can now listen to Fox News articles!
Kyle Busch's remarkable comeback from debilitating injury continued Sunday, as he won the Crown Royal presents the Jeff Kyle 400 at the Brickyard for the first time.
Busch passed Kevin Harvick on a restart with 11 laps to go and survived a green-white-checkered finish to capture the biggest race of his NASCAR career.
It was Busch's fourth victory in the last five races and it gave him a weekend sweep of the NASCAR Sprint Cup and XFINITY Series races at Indianapolis Motor Speedway. It also virtually assured that Busch will earn enough points to make the Chase for the NASCAR Sprint Cup despite missing the first 11 races of the season due to injury.
With six races left in the Sprint Cup regular season, Busch is just 23 points out of 30th place, which he needs to reach to qualify for the Chase.
Behind Busch at the Brickyard, Joey Logano finished second in a Team Penske Ford, followed by Harvick's Stewart-Haas Racing Chevrolet, Martin Truex Jr. in the Furniture Row Chevrolet and Denny Hamlin, Busch's teammate at Joe Gibbs Racing.
It was the first victory for Toyota at the Brickyard and it broke a streak of 12 consecutive Chevrolet wins at the historic track.
"Oh, my gosh, I just can't believe this run right now," said Busch, who now has 33 career Cup victories. "I just can't believe what's going on."
Asked if his brutal crash in the season-opening XFINITY race at Daytona International Speedway had helped his perspective, Busch said he wasn't sure. "It must have, I don't know," said Busch. "I just think maybe I found my happy place. Happy Gilmore, he found his happy place, and he just dominated at the end. So maybe I found that, too."
Logano, the runner-up, could only shake his head. "I guess Kyle's back," said Logano, who posted his sixth top-five finish in the last seven races. "Man, it's so frustrating, because you're so close to winning here at the Brickyard. Second hurts."
Adam Stevens, Busch's rookie crew chief at Joe Gibbs Racing, said his driver and team are now ready to take the next step.
"We've had some good fortune, but today we flat-out earned it," said Stevens, who added, "It's a championship run. We're transitioning from making the Chase to trying to win this championship."
"We're a championship-contending team," said Busch. "We just have to be championship eligible."
Carl Edwards, another JGR driver, started from the pole, flanked by Logano, with David Ragan third, the same order the top three started from at New Hampshire a week ago.
The first major strategy play came on Lap 46 during a caution for errant balloons on the track. Under yellow, Logano led a group of five drivers who stayed out and he assumed the point.
But when the race restarted on Lap 50, Clint Bowyer got loose and triggered a small pile-up. Jeff Gordon crashed when he hit teammate Kasey Kahne, who had checked up in front of Gordon. It was a tough break for Gordon's final race here.
Harvick led at the halfway point, ahead of teammate Tony Stewart, Brad Keselowski and Edwards.
Brian Scott hit the wall on Lap 120 to bring out a yellow, with the top 13 cars pitting and Ragan staying out and inheriting the lead. Harvick, who had dominated to that point, restarted eighth, moving up to fifth on the first lap of green.
On Lap 126, Ricky Stenhouse Jr. bounced off the wall, but the track stayed green and Ragan led a group of drivers down pit road. That put Keselowski back in front ahead of Harvick and Edwards.
A caution on Lap 140 for debris sent Keselowski and a lot of the other competitors down pit road. Harvick and Edwards stayed out, and after the stops the order was those two followed by Kyle Busch, Martin Truex Jr. and Joey Logano.
The green flew with 14 laps to go, with Harvick pulling away and Busch moving to second, as Edwards made a bad restart.
Then, Dale Earnhardt Jr. crashed in Turn 1 after he moved down and made contact with Kasey Kahne, sending the track yellow again.
This time, the green came out with eight laps to go, Harvick leading Busch, Logano and Truex.
Busch got the lead on the restart, but Harvick stayed right on his bumper.
Then, another caution, this one for debris, which set up a two-lap shootout for the win.
Except there was a crash on the restart, which meant the track went yellow and the race would end with a green-white-checkered finish. And from there, Busch held on to win.
VIDEO: Joey Logano talks about finishing second in the Brickyard 400 at Indianapolis Motor Speedway