Sweet 15: Russian figure skater Lipnitskaia soars to stardom in Sochi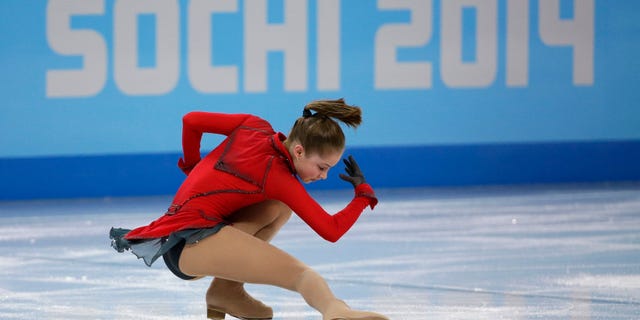 SOCHI, Russia – The descriptions range from enchanting to fearless, from "the real package" to "a diamond."
One thing is for certain: A star was born in the team figure skating competition at the Sochi Games.
Julia Lipnitskaia has spent under 7 minutes on the Olympic ice, but the Russian 15-year-old has quickly become the most talked about athlete at the games.
Her rise crested over the weekend as the hosts won their first gold medal. Yes, countryman Evgeni Plushenko, ever the showman, had his moments in the spotlight. But even he recognized who stole the show.
"She is a genius," Plushenko said.
Others echoed those thoughts — and then some.
Another gold medalist at 15, Tara Lipinski, could relate to what Lipnitskaia went through. And what she brought to the ice.
"Judging from how prepared she looks — I can see it when they step on the ice — she looks like she believes this is her moment," said Lipinski, the youngest woman to win the individual women's gold, in 1998 at the Nagano Games. "Obviously she's a tough girl. To be in this sport and take the hits; you have to be.
"She is the real package."
That petite package headed back to Moscow on Monday to train before returning next week for the women's competition. While she is away, the anticipation of seeing her skate again will build.
Lipinski doesn't think the prodigy will be affected by the attention or the pressure.
"A lot of skaters can do the triple-triples and put out a performance," Lipinski said. "But to be able to do it when it counts is a special quality.
"I believe she is so special."
So does Scott Hamilton, the 1984 Olympic champion and the voice of the sport. Hamilton sees that diamond, but he also believes it's a bit raw, despite what the world already has seen from Lipnitskaia.
"I want to see her take it to the extent of her abilities," he said, "and those are pretty limitless. She has everything, and now it's just a matter of developing it as she goes along."
The 5-foot-2 Lipnitskaia has not come from nowhere to the Sochi podium, although at times she has been mistaken for a flower girl. She won the world junior championships in the 2011-12 season, was second at this season's Grand Prix Final, then won the European title last month.
But she was considered an outside medals threat coming to the games behind defending champ Yuna Kim of South Korea, Mao Asada of Japan and Carolina Kostner of Italy. Now, her name is on everyone's lips.
Lipnitskaia's maturity, poise and competitive spirit were on display in the team event, when the expectations of her countrymen could have been overwhelming for such a youngster. Instead, she took on the pressure and turned it into something spectacular in the short program and then the free skate.
"Both programs were very her," said Michelle Kwan, a five-time world champion who won her first title at age 15. "It was all about execution and she knew exactly what she had to do. She would have been surprised if she made a mistake.
"I don't think the attention bothers her. She is enjoying it."
Teenage champions in women's figure skating hardly are unusual, including the Olympics: Sonja Henie was 15 when she won her first gold medal. Oksana Baiul and Sarah Hughes each were 16, Katarina Witt 18 for her first title, while Peggy Fleming, Dorothy Hamill and Yuna Kim were 19.
They all mastered the elements specific to their sport: jumps, spins, footwork, whatever was called for in their day. Some even revolutionized skating.
Kwan could see that happening with Lipnitskaia, whose spiral with one leg held straight up, then moved to another position, could become the "Julia."
There will be, of course, more from Lipnitskaia at these Olympics. Yuka Sato, the 1994 world champion and now a top-level coach, expects it to be just as breathtaking.
"She definitely has all the elements, but there is more, much more," said Sato, who was a veteran at 21 when she won worlds, but was 18 when she arrived at her first Olympics. "She is well-trained and they are very strict with her structure. You can see it.
"She also is fearless. Now she has that confidence and that experience, and that pushes up the momentum."
How much?
The world will find out next week.