Swashbuckling rookie RB Zach Zenner has a shot with Lions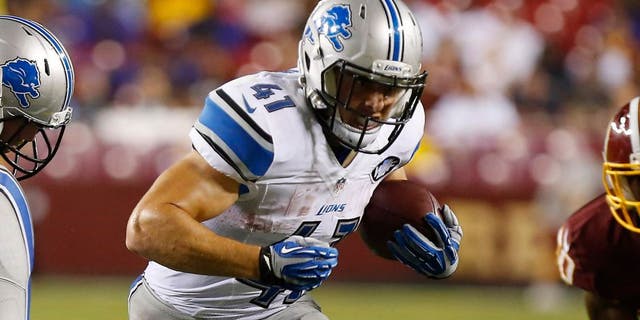 NEWYou can now listen to Fox News articles!
ALLEN PARK, Mich. (AP) -- Zach Zenner has made the most of his opportunities with the Detroit Lions, leading the league with 162 yards rushing through three preseason games.
Zenner isn't paying attention to the relative hype he has generated.
"I keep my head in the sand for a lot of that stuff," he said in his aw-shucks fashion.
The former South Dakota State star has one more shot in a preseason game to show he deserves to stay with the team. He will probably get the ball a lot Thursday night when Detroit (2-1) hosts the Buffalo Bills during an exhibition in which both teams are planning to rest their starters.
Fellow rookie Amir Abdullah, a second-round pick with a job secured, laments that the preseason drags along. Zenner is just looking forward to displaying his swashbuckling style at least one more time.
"Every preseason game is very important, especially for a guy like me as an undrafted free agent," Zenner said. "Those opportunities, not everyone gets them."
No, they don't.
Zenner survived a wave of cuts earlier this week after zigging and zagging around defenders, breaking some tackles and displaying he's got at least a touch of speed against some of the best football players in the world.
Some have been surprised that the player from the second-tier of college football has been effective against NFL players, including some first-string defenders last week in Jacksonville, but Abdullah has simply shrugged his shoulders.
"I expected it," said Abdullah, who Detroit drafted out of Nebraska. "We played South Dakota State in 2013 and his first run was like a 50-yard touchdown. I think he ran for like 220 on us. At that point, I knew what kind of player he was going to be."
The Eagan, Minnesota, native was a quarterback in high school when Vikings star Adrian Peterson once watched his team play from the sideline. The 5-foot-11, 222-pound Zenner went on to South Dakota State, where he became the first running back in NCAA Division I history to rush for at least 2,000 yards in three straight seasons.
He finished his career with 6,548 yards on 1,095 carries with 61 touchdowns, but the Football Championship Subdivision All-American wasn't selected in the NFL draft.
Zenner provided a glimpse of what he could do in his first preseason game, running for 55 yards on 13 carries against the New York Jets. He had 81 yards on the ground and through the air in his second game at Washington. Playing with and against some starters and later with reserves, Zenner had a 41-yard run against the Jaguars last week and finished with 85 yards on eight attempts.
"We got a steal in Zenner," said Joique Bell, Detroit's top running back. "That kid there, his numbers speak for itself. Hard running. Hard-nosed. Does everything right."