Suter, Dumba score but Wild rally falls short against Blues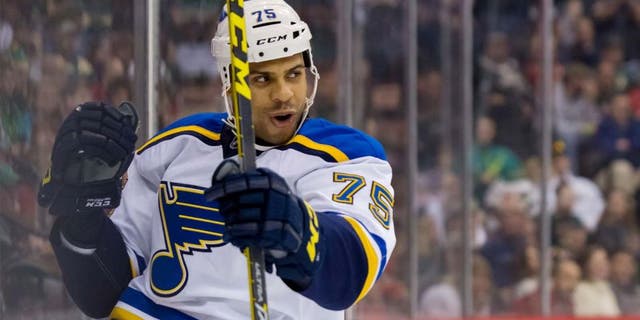 ST. PAUL, Minn. -- Four days off did little to slow the St. Louis Blues.
Well, for most of Sunday night.
Jori Lehtera scored in his return to the lineup and St. Louis held on to beat the Minnesota Wild 4-2. Ryan Reaves, Patrik Berglund and Robby Fabbri also scored for St. Louis, which won its third straight. The Blues have victories in seven of their past eight road games.
St. Louis led 3-0 before two late goals by Minnesota made things interesting.
"We played a textbook game for us for 52 or 53 minutes," said David Backes, who had an assist. "We could have stuck to our principles for another seven, eight minutes and had a phenomenal game. Instead, we had a good game, found two points and we'll move on."
St. Louis, playing its first game since an 11-round shootout win Tuesday in Ottawa, remained two points back of Chicago and Dallas in the Central Division. The Blackhawks beat Detroit 4-1 and the Stars won 2-1 in Ottawa on Sunday. Each team has 15 games left. Chicago is at St. Louis Wednesday.
"This is the playoff stretch right now," Reaves said. "We're playing a lot of teams that we're in the mix with and tied with and chasing, so these are points we've really got to steal and start getting some separation."
Ryan Suter and Matt Dumba scored for Minnesota, which lost for the first time in five games. The Wild remained two points ahead of Colorado for the final Western Conference wild-card spot.
"Things are going in the right direction, so we have to make sure we focus on that coming off this," center Ryan Carter said.
Lehtera was back following a three-game absence after being hit in the face by a puck on Feb. 25. Off a turnover, he beat Devan Dubnyk with a slap shot 7:44 into the game for a 1-0 lead. St. Louis had seven of the game's first eight shots.
Less than two minutes later, Reaves' wrist shot from the right circle beat Dubnyk on the glove side for a soft goal. Minnesota unsuccessfully challenged that St. Louis was offside. In consultation with league hockey operations staff, the officials ruled Kyle Brodziak had possession and control of the puck entering the zone, even though he skated in backward with his skates crossing the blue line before the puck.
Wild coach John Torchetti was diplomatic, saying his team needed to move on once the call was made. Dubnyk, however, said more.
"This is the play that they brought the coaches challenge in for, this exact play," Dubnyk said. "It's so offside that both our defensemen stopped playing and all of a sudden they have twice as much room as they would because both our guys stopped playing. You have guys on the other bench that are laughing after the goal is called, and I mean, it's just added to the list of interesting calls on challenges for everywhere around the league this year.
"If you put that video up and you didn't know what that call was -- if it was offside or onside -- and you argued if he had possession or not, I think it's pretty obvious."
Another bad goal gave the Blues a 3-0 lead midway through the second, when Berglund -- alone at the edge of the left circle -- scored on a rebound.
Dubnyk, who finished with 13 saves, was replaced by Kuemper -- who had 18 saves.
Minnesota rallied in the third, starting when Suter scored midway through the period on a backhander in front. Dumba scored with 5:20 to play to make it 3-2, but Fabbri added an empty-net goal with 1:31 to go.
Notes: St. Louis has 12 goals in its three straight wins after scoring just four times during a three-game losing streak. . . . C Jarrett Stoll was a healthy scratch for Minnesota, the first game he's missed since being claimed off waivers Dec. 15. . . . RW Jason Pominville played his 231st straight game for Minnesota, tying Brodziak -- now a St. Louis center -- for the second-longest streak in team history. LW Antti Laaksonen played in 283 in a row.