Surging Stafford lifts Lions into playoff contention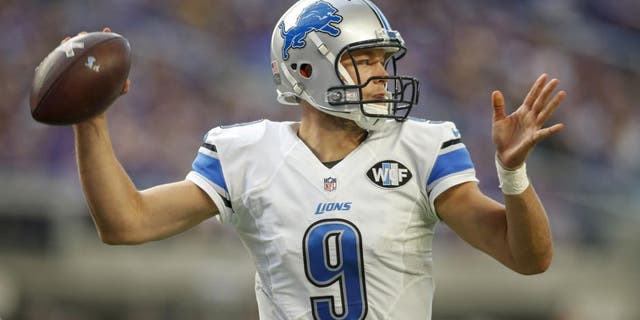 ALLEN PARK, Mich. (AP) -- Some quarterbacks are good in the two-minute drill.
Matthew Stafford doesn't even need that long.
Stafford is having one the best seasons of his career, statistically, and the numbers don't even tell the whole story. Every game the Detroit Lions have played has been decided by seven points or fewer, so their quarterback has constantly been under pressure with time running down. That was the case last weekend, when Stafford and the Lions went 35 yards in 23 seconds to set up a tying field goal on the final play of regulation. Detroit beat Minnesota in overtime .
"We would like to score earlier in the game and have a lead, but it did not work out that way," Stafford said. "Our guys did a good job of sticking together."
Stafford has completed 67.3 percent of his passes this season, throwing for 18 touchdowns and five interceptions. His passer rating of 101.6 would be the highest of his eight-year career if he maintains it.
He's doing this without his top receiver Calvin Johnson, who retired in the offseason. The Lions (5-4) have this weekend off, and they are by no means a lock for the playoffs, but whatever their flaws, they've been able to count on their quarterback.
Stafford has had difficulty at times living up to his promise as the No. 1 pick in the 2009 draft. He threw for 5,038 yards and 41 touchdowns in his third season, but that year soon began to look like an outlier. Even when Detroit reached the playoffs in 2014, the Lions were led by their defense.
A 1-7 start last season cost Detroit's general manager and team president their jobs, and it was fair to wonder about Stafford's future as well.
Stafford and the Lions played better down the stretch, and Detroit's hope was that Jim Bob Cooter had figured out how to get more out of the team's quarterback. Cooter was promoted to offensive coordinator in the middle of last season.
In their opener this season, the Lions trailed Indianapolis by one with the ball on Indy's 25-yard line and 37 seconds left. Stafford completed three straight passes, and Detroit was in range for Matt Prater's winning field goal.
"(Stafford) appears to make it a little bit easier than what it actually is," coach Jim Caldwell said. "Number one, he prepares extremely hard. Number two, he has great confidence that he doesn't back down and doesn't shrink away from those moments, and the guys that are around him can sense that, and I think it gives them a little bit more confidence."
Last month, the Lions trailed Philadelphia by two in the fourth quarter. On third down, Stafford and Golden Tate connected for 27 yards, setting up the field goal that put Detroit ahead to stay. The following weekend, it was a 44-yard drive that set up the winning field goal with 1:29 remaining against Los Angeles.
The Lions were down by four against Washington with 1:05 remaining Oct. 23, and they went 75 yards for the winning touchdown.
Last weekend's drive at the end of the fourth quarter came with no timeouts left. Stafford threw an 8-yard pass to Tate, who went out of bounds. Then Stafford completed a 27-yard throw to Andre Roberts in the middle of the field. Detroit was able to rush up and spike the ball, giving Prater a chance at the 58-yard field goal that tied it.
"We practice those situations all the time. You might not believe it, but we actually go through situations where we need a field goal with 23 seconds left," safety Glover Quin said. "When we completed that pass down the middle, we knew we had enough time to get to the ball and execute it perfectly. We didn't have anybody lining up wrong or guys covered up that would have resulted in the end of the game. We were able to hustle to the ball, snap it and spike it."
Time was certainly against the Lions in that game, but Stafford has proven he can beat the clock.
"What else can you ask for but an opportunity?" Tate said. "We went out there and executed fairly well and found a way."