Surging Nationals sweep Braves, gain ground on Mets for NL East lead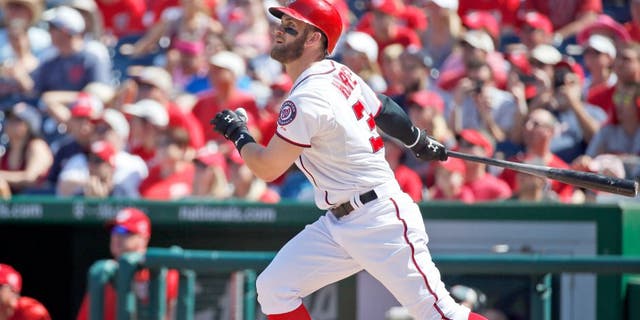 WASHINGTON -- Bryce Harper homered for the third straight day, and the Washington Nationals beat the lowly Atlanta Braves 8-4 on Sunday to pull within four games of NL East-leading New York heading into a big series against the Mets.
Jayson Werth hit a three-run homer in Washington's five-run second, helping the Nationals to their fifth straight win and seventh in nine games overall. Yunel Escobar had three hits and scored two runs.
Five Washington relievers combined for 4 2-3 innings of two-hit ball, with Felipe Rivero (2-1) picking up the win.
The Nationals will send ace Max Scherzer to the mound for the opener of their three-game set against New York on Monday. Jonathon Niese goes for the visiting Mets.
Nick Markakis had two hits for Atlanta, and Nick Swisher drove in two runs. But Manny Banuelos (1-4) was knocked out in the third inning, and the Braves went on to their 12th straight loss for the first time since 1988.
Swisher singled in Markakis in the first, but the Nationals responded with five runs in the second and two more in the third.
Michael Taylor put Washington ahead to stay with a two-run double in the second. Pitcher Joe Ross was hit by Banuelos with two out, and Werth followed with a drive to left for his seventh homer.
Werth is hitting .324 (23 for 71) with four homers and 10 RBIs since moving into the leadoff spot 17 games ago.
Harper opened the third with a drive to center on an 0-2 pitch for his 34th homer of the season. The All-Star slugger was 7 for 11 and scored nine times in the four-game set against Atlanta.
Michael Bourn singled in Swisher in the fourth, but Anthony Rendon homered in the bottom half for Washington.
The Nationals improved to 13-3 this year against the Braves. They also took all 10 home games with Atlanta, matching a franchise record against a division foe.
ZIM RESTS
Washington's Ryan Zimmerman, who is batting .439 with six home runs and 18 RBIs during his 10-game hitting streak, got the day off. Tyler Moore filled in at first base.
AN ATLANTA RARITY
The Braves will finish below .500 for a second straight season for the first time since 1989 and 1990.
TRAINER'S ROOM
Braves: 3B Hector Olivera was scratched with a bruised left foot. Adonis Garcia was inserted into the lineup.
Nationals: RHP Stephen Strasburg threw a bullpen session and is expected to return to the rotation on Wednesday after missing his last start with a back injury.
UP NEXT
Braves: RHP Williams Perez (4-6, 5.65 ERA) opens a three-game series in Philadelphia against Phillies RHP Aaron Harang (5-14, 4.89 ERA). Atlanta has lost all eight of Perez's starts since June 20.
Nationals: Scherzer (11-11, 2.89 ERA) is 0-3 with a 5.82 ERA in his last six starts.