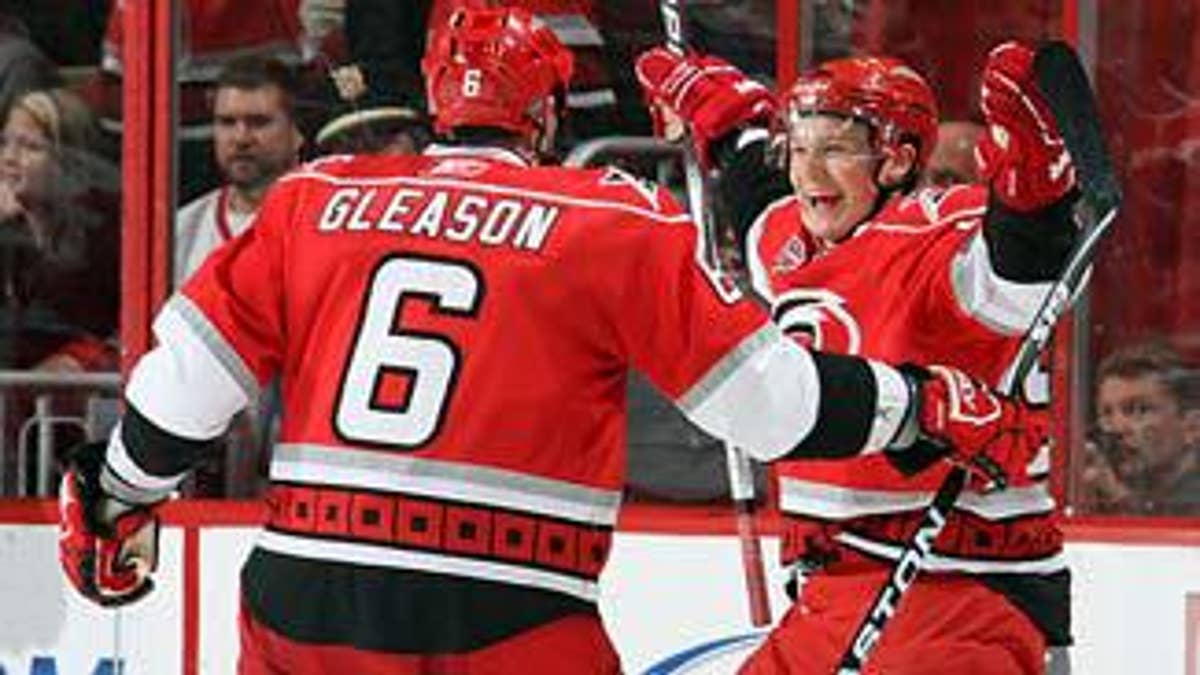 ATLANTA -- With their playoff fate hanging in the balance, the Carolina Hurricanes have turned to superstition.
The Hurricanes, who have two games remaining in their regular season, regained control of their playoff destiny Thursday when the Atlanta Thrashers -- Carolina's opponent Friday -- defeated the New York Rangers 3-0 at Madison Square Garden.
But Hurricanes coach Paul Maurice refused to watch the game until this morning.
"Well, there's so many superstitions that we have to talk about," Maurice said. "I did watch the entire Boston-Ranger game (last week when the Rangers rallied from a three-goal deficit to win 5-3), and that didn't go so well. I watched 'NHL On The Fly' and got pieces of the live game (Thursday) and then came in this morning and watched the game."
Entering the game Friday at Philips Arena, the Hurricanes, 7-1-1 in their last nine games and 4-0-1 in their last five, are in ninth place in the Eastern Conference with 89 points, while the eight-place Rangers have 91 but only one game remaining. If Carolina wins its last two -- including Saturday night in Raleigh against Tampa Bay (7 p.m. ET, NHLN-US) -- it earns a playoff berth.
But so many scenarios still exist. If Carolina wins Friday and the Rangers lose their finale Saturday afternoon against New Jersey, the Hurricanes will clinch before they play Saturday night. A loss Friday to the Thrashers -- who have yet to beat Carolina in regulation this season in the first five meetings -- and the Rangers can clinch a spot and eliminate the Hurricanes by beating the Devils.
Hurricanes captain Eric Staal, who has had a typically impressive season with 33 goals and 42 assists, said he also has resorted to superstition. Thrashers captain Andrew Ladd, who scored a goal in Thursday's win against the Rangers, is a friend to a number of the Carolina players dating to his part on the franchise's 2006 Stanley Cup team.
However, Staal said he offered no text of thanks to Ladd after the game.
"No, I never did," Staal said. "I've done that before for other games and it hasn't worked out, so I stayed away from texting him or talking to him. Hopefully, a big win for us tonight and I'll say thanks after the game."
Staal conceded the act was superstitious.
"Yeah, a little bit maybe," he said. "I've had bad mojo in the past sending a brother (Pittsburgh's Jordan or the Rangers' Marc) a text here and there to beat a team and it hasn't worked out."
Carolina forward Chad LaRose has no compunctions about that himself, however. He and Atlanta forward Chris Thorburn were teammates with the Ontario Hockey League's Plymouth Whalers. Noticing that Thorburn recently had signed a contract extension, LaRose got in touch with Thorburn and told him before the game to "step it up and snipe a couple of goals."
"Yeah, tried to make sure those guys were ready to go," LaRose said with a laugh.
On a more serious note, the Hurricanes are aware of how well the Thrashers played Thursday and realize they have to prepare for that effort.
"That's what we've been wanting for a couple of weeks now, where we control our destiny, and now we got there and we've got to look at (Friday's) game and don't look past that," LaRose said. "We saw how good Atlanta played (Thursday). It's a big game tonight for us."
Maurice talked about how his team chased the Thrashers for five months in the standings and lately has chased Buffalo and the Rangers. The Hurricanes wasted a great opportunity last Sunday with a 2-1 overtime loss to the Sabres, but by receiving some unexpected but much needed help, they have regained control of their destiny.
In their five meetings with Atlanta, four have gone to overtime or a shootout. Incredibly, Erik Cole has scored the game-winning goal in each of Carolina's three non-shootout wins. Carolina leads the season series 4-0-1. (Atlanta is 1-1-3.)
Maurice also discussed the pride of overcoming the difficulty of the team's schedule to arrive at this point. Carolina's season began in Helsinki and then stretched into a five-game road trip that included a West Coast swing. The Hurricanes didn't play their first home game until Oct. 27, and Maurice said his goal was to survive until late November, which they did.
The Hurricanes also rank among the top two in the League in back-to-back games this season. Saturday's will be their last, but at least Friday they stand to benefit from that dynamic for a moment. They arrived in Atlanta on Thursday afternoon and were waiting for the Thrashers to come home from New York.
"You know what? We've played some of our best hockey in back-to-backs recently when the other teams rest and sometimes we've played great and lost and sometimes we didn't play as well and won," Maurice said. "So I'm not counting on any fatigue factor from them (Atlanta). I think the light's kind of at the end of the tunnel. They had a big win, they're feeling good, they're coming to the game. It's going to be really our responsibility to do enough of the hard, grinding work to make it a tough game for them, but we're going to get their best."