Superstition helps Nationals' Werth raze idea of trimming his hair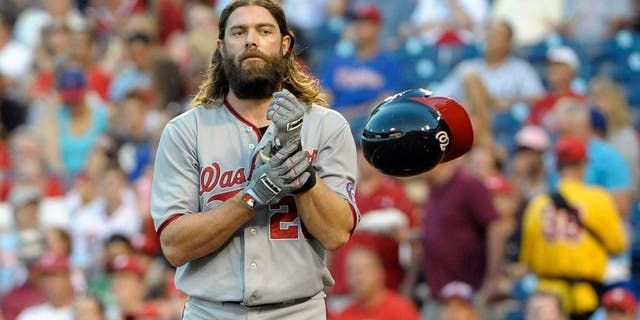 Washington Nationals outfielder Jayson Werth had been considering a trip to the barber but superstition got in the way.
It would have been a hair-razing move for Werth, particularly with the Nationals set to give away a Werth Chia Pet doll to the first 20,000 fans on Wednesday night. Werth told Thomas Boswell of the Washington Post that he changed his mind upon recalling a string of past experiences.
"I got it trimmed before I went to court (for speeding last off-season), and they threw me in jail," Werth said. "At this point, it's not for me."
Werth noted that the five-day prison sentence for reckless driving was not the only reason to leave his long locks and trademark beard untouched. After getting a trim earlier in the season, he said he was hit in the wrist by a pitch in the next game, resulting in two broken bones that sidelined him for more than two months.
The 36-year-old Werth also recounted how he suffered a broken wrist when he was plunked during spring training in 2005, an injury that occurred hours after a barber told him it would be "good karma" to cut his hair.
That was enough to keep him out of a barber's chair this time around. "I thought about it," Werth admitted. "But I'm superstitious about it now."
(h/t Washington Post)