Super Bowl Showdown: Victor Cruz vs. Aaron Hernandez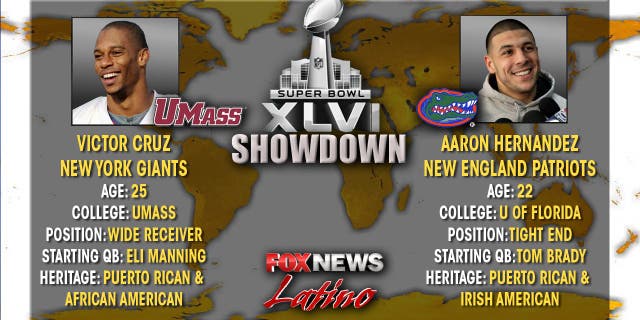 The final game of the NFL season has arrived in Indianapolis - Super Bowl XLVI at Lucas Oil Stadium.

A rematch of the 2007 Super Bowl but with one striking difference, well actually, many differences except for the quarterbacks' and the majority of players who weren't there 5 years ago.

But there is one standout difference for many others, and me. There are two Latinos vital to their teams' success Sunday.

On one side you have a superstar, a playmaker that burst onto the scene this season for the New York Giants - wide receiver Victor Cruz.

On the other side you have an integral role player and possible show stealer Aaron Hernandez, a tight end for the New England Patriots.

Two offensive cogs in their teams' respective scoring machines.

Which one will have the bigger impact this Sunday? Where did they come from? What variables may impact this Sunday's game for them?

Lets take a look.

Background

Victor Cruz is a second year player who signed as an undrafted free agent with the New York Giants in 2010. He played college ball at the University of Massachusetts (not exactly a football powerhouse).

Cruz, 25, is from Paterson, NJ. His mother is Puerto Rican and his father is African-American.

Aaron Hernandez is a second year player who was drafted in the fourth round by the New England Patriots in the 2010 NFL draft. He played three seasons for the University of Florida and in 2009 won a national championship with the Gators.

Hernandez, 22, is from Bristol, CT. His father is Puerto Rican and his mother is of Irish descent.

It's amazing that these two Latino players both essentially represent their "hometown" teams. Hernandez has the pedigree but Cruz has the 'never say die' background that's taken him as far as he's come.

Breakdown

Victor Cruz is a starter. He had 82 catches this season for 1,536 yards and 9 touchdowns.

After getting injured last season Cruz has made himself the primary target for Giants quarterback Eli Manning.

Besides a rough early start to the season he's essentially been a consistent threat or a distraction for defenses throughout 2011.

Aaron Hernandez is what some would call the "back-up" tight end. But if you look at the Patriots offense closely you'll see he's just another dangerous weapon for quarterback Tom Brady and a compliment to starting tight end Rob Gronkowski.

With Gronkowski setting records and essentially a receiver this season, Hernandez has been overshadowed but has also put up some pretty good numbers of his own.

Hernandez has caught 79 passes for 910 yards and 7 touchdowns this season and is the third leading receiver behind Gronkowski and team leader Wes Welker.

Lets put Hernandez into perspective. Only 3 tight ends (New Orleans Saints' Jimmy Graham, Dallas Cowboys' Jason Witten and his own teammate Gronkowski) have more receiving yards than he does.

Witten a Pro Bowler has the same amount of catches and only 32 yards more receiving than Hernandez.

Hernandez is a legitimate sleeper but Cruz is more likely to have the big day. What this profile really does is put in perspective the big year Gronkowski is having.

VARIABLE: Rob Gronkowski is recovering from a high ankle sprain he suffered in the AFC Championship game. The Pats are looking at having Gronkowski wear a special cleat in order to let him play more naturally. If he's limited that raises two scenarios.

Will Hernandez get more balls thrown his way and become the focal tight end? Or will the chemistry be thrown off because of a defense focused in on Hernandez essentially shutting the TE down?

My opinion is that Hernandez should hope Gronkowski is able to play at full speed so they can take advantage of the game plan.

TRADEMARKS: Cruz has made it the year of the salsa dance. His tribute to his Hispanic heritage has swept the nation. Everyone's asking him to dance and there are even shirts with his name and dancing instructions on them.

Hernandez has two arms full of tattoos. I'm not going to lie I think it looks badass but the clean cut Pats can't market tattoos to kids and most fans.

VERDICT: Cruz has the playmaker advantage and is a primary target. Hernandez is another weapon and will not be the primary target. I give Cruz the advantage.

You have to respect what both players have accomplished but I expect Cruz to be a playmaker while Hernandez, given the chance to take over the game, will be a pleasant surprise.
Follow us on twitter.com/foxnewslatino
Like us at facebook.com/foxnewslatino