Super Bowl moment No. 14: John Elway would not be denied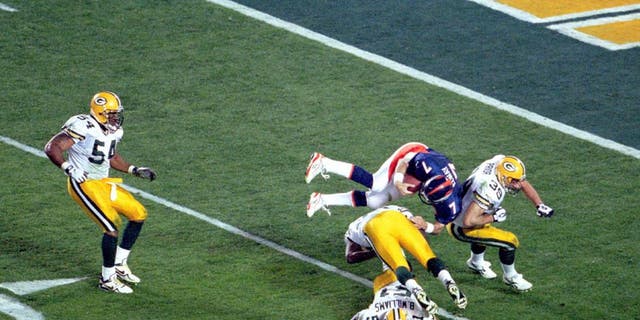 As we count down to Super Bowl 50 in Santa Clara, Calif., it's time to look back on the magical and memorable moments in the 49 previous Super Bowls. FOX Sports senior NFL writer Alex Marvez has ranked the 50 greatest moments in the big game's big history, and every weekday from now until Feb. 7 we'll unveil the latest addition to our countdown. Today, we look back at moment No. 14, when John Elway would not be denied.
Denver quarterback John Elway was long haunted by poor performances in three previous Super Bowl losses. But it was an iconic play in Super Bowl XXXII that ranks among the most lasting from his Hall of Fame career.
With the score tied at 17-17 late in the third quarter, Elway was scrambling deep inside Packers territory as Green Bay safety LeRoy Butler closed in for a tackle. Rather than slide to try and avoid contact, Elway hurled his battered 37-year-old body into the air.
A combination of shots by Butler and fellow defensive back Mike Prior caused Elway to spin like a helicopter blade before he landed with a thud onto the Qualcomm Stadium turf.
Elway quickly bounced up and thrust his arm in the air, providing a moment that teammates say inspired them onto victory.
See highlights from Super Bowl XXXII here.
Final score: Denver 31, Green Bay 24