Super Bowl fan event in Minneapolis replaces security firm: report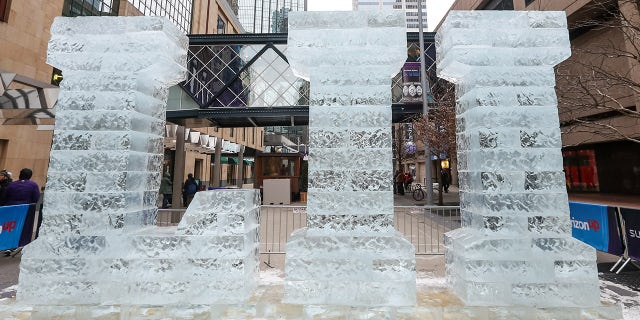 NEWYou can now listen to Fox News articles!
The company providing security to Super Bowl Live, a nightly fan event in Minneapolis connected to Sunday's NFL championship game, has been replaced because of insufficient background checks on its employees, according to a published report.
EPG Security Group, based in Minneapolis, had been left shorthanded after several of its employees were "yanked away" by federal authorities, a Minneapolis police lieutenant told the Minneapolis Star-Tribune.
One security guard on duty at the event turned out to be a convicted felon, Lt. Bob Kroll told the newspaper, and then federal agents "did checks on other guys."
The Super Bowl Host Committee replaced EPG with G4S, another Minnesota-based company, the newspaper reported.
100,000 visitors expected
Super Bowl Live is a carnival-like event that has operated on the streets of Minneapolis since Jan. 26, in the run-up to Sunday's game between the New England Patriots and Philadelphia Eagles. It was expected to attract a total of more than 100,000 visitors, the Star-Tribune reported.
Despite the change in security, there have been no significant problems at the event, the newspaper reported.
The Super Bowl Host Committee declined to comment on the situation, but a spokeswoman issued the following statement:
"Safety and security is and always has been our top priority. We don't comment on the security measures in place except to say that all efforts are part of an integrated, multilayered partnership with all levels of law enforcement. We are confident that the security measures in place are appropriate and effective."
EPG also declined to address the matter. "We are not at liberty to comment on changing security strategies and assignments," the company told the Star-Tribune.
EPG is the same company that provided security at President Donald Trump's inauguration and at the 2016 Republican National Convention in Cleveland, the newspaper reported, citing the company's online posts.
Broader security presence
In preparation for the big game, concrete barriers and chain-link fencing have been erected throughout downtown Minneapolis, and a contingent of local, state and national agencies has been working to ensure that the game and dozens of related events are safe.
Still, the downtown location has presented challenges for authorities, who have had to get creative in providing a secure perimeter around businesses and a major hospital near U.S. Bank Stadium, where the game will be played.
But authorities said they've spent roughly two years thinking about every possible scenario.
"We're ready for anything that may come our way," Minneapolis Police Commander Scott Gerlicher said. "It's about not just feeling safe, but making sure people are in fact safe."
Gerlicher, whose department is overseeing the event's overall security, said this Super Bowl will have the largest deployment of federal resources yet. That's because Minneapolis has a relatively small department — less than 900 officers compared with the roughly 5,000 in Houston, where last year's game was held — and needed more personnel.
Dozens of other cities are sending officers too, and the Minnesota National Guard has been activated. An additional 10,000 volunteers are being trained to spot suspicious activity.
The Associated Press contributed to this story.