Super Bowl 50 MVP Von Miller's dad wouldn't let him play football, so he kept it a secret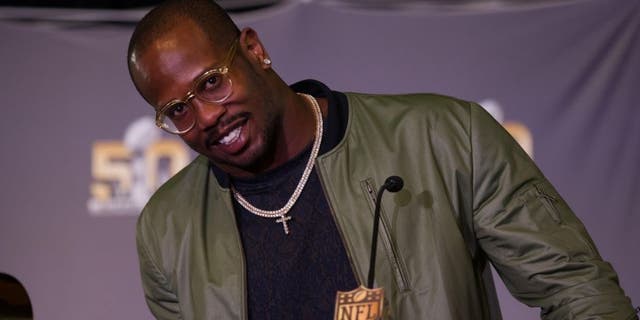 Take a second to picture this: the Denver Broncos without stud pass rusher Von Miller. If it was up to Von's dad, it may not have happened. In fact, Miller might have taken a completely different career path and not made it to the NFL at all.
In a post for The Players' Tribune, Miller shared the story of how his dad wouldn't let him play football when he in fifth grade. Why? Because he was "way too skinny" to play.
So, little Von did what every smart kid would do in that situation: Go ask Mom. And it worked like a charm.
Miller, who likened his secret to a "CIA operation," said his father would ask him how he got scratches on his arm. It was nothing more than a concerned dad looking out for his son, with a bit of suspicion added in, too.
Rather than breaking down and telling Mr. Miller what happened, the younger Miller told his father that he "got scratched up sliding into home plate."
Eventually, Miller had to unveil his secret. And that was only because his team made it to the championship despite having just 11 players on the squad. Incredibly, his team pulled out the victory by a touchdown.
Part of the reason why Miller's dad didn't want him playing football was because of his skinny build. Miller, himself, admits that being a self-admitted "nerd" played a role, too. And he still thinks of himself in that way today.
On the night before the AFC Championship, Miller wasn't watching film. He wasn't watching motivational videos, either. Instead, he had a viewing party of sorts to watch educational television.
Here's how his friend and Miami Dolphins defensive end Damontre Moore described the peculiar scene.
That's just one example of why Miller calls himself a nerd -- both back then and now. If being a nerd makes you a Super Bowl and MVP, who wouldn't want to be one?
The piece goes into much greater detail, sharing hilarious stories from his childhood and how he used to wear "rec specs" over his helmet.