Suns take down Celtics, move to 2-0 in summer league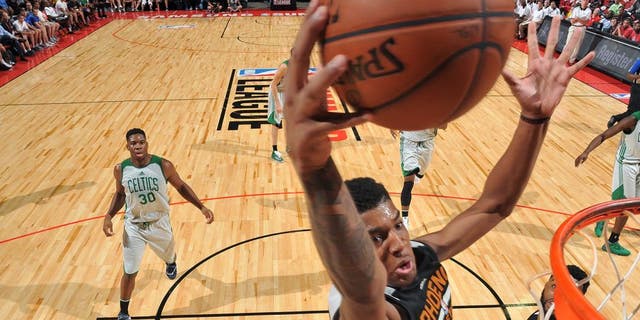 NEWYou can now listen to Fox News articles!
The Suns used a dominant third quarter to race past the Boston Celtics 87-74 in the Las Vegas Summer League on Sunday at Thomas and Mack Center.
Devin Booker scored a game-high 24 points with seven rebounds. Marquese Chriss, the eighth overall pick in this year's draft, totaled 15 points and 12 rebounds, and Alan Williams had 15 points and 12 rebounds.
After a close first half that ended with Phoenix leading 44-40, the Suns jumped out to an early third-quarter lead, taking a double-digit advantage midway through and finishing with a 15-point lead as they outscored the Celtics 21-10 in the period.
Boston had fewer positives. Jordan Mickey scored 18 points and R.J. Hunter had 17. Hunter went 4-for-6 from 3-point range, continuing his stretch of summer sharpshooting. He is 9 of 16 from long distance in summer league play.
Both teams return to action Tuesday, with the Celtics playing the Dallas Mavericks and the Suns facing the Miami Heat.