Suns sign 3 draft picks in advance of Las Vegas Summer League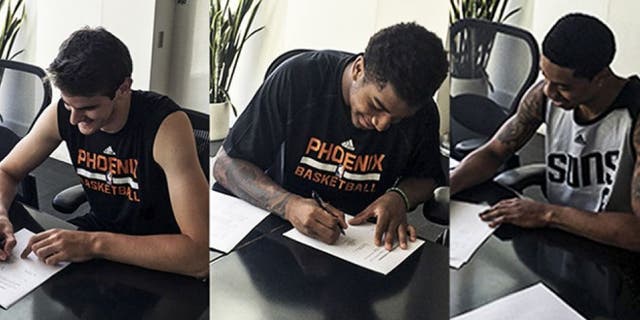 NEWYou can now listen to Fox News articles!
PHOENIX -- The Phoenix Suns have signed draft picks Dragan Bender, Marquese Chriss and Tyler Ulis ahead of the start of the Las Vegas Summer League on Saturday.
Bender, of Croatia, was the fourth pick in last month's draft, Chriss, of Washington, was the No. 8 pick, and Ulis, from Kentucky, was a second-rounder taken with the 34th overall pick.
The 7-foot-1 Bender and 6-10 Chriss are both 18-year-old power forwards who will be groomed to play the "stretch four" position. Ulis is a 5-foot-10 point guard who will be an understudy to Eric Bledsoe and Brandon Knight.
All three will play for the Suns' team when it plays its first game in the Las Vegas Summer League on Saturday at 1 p.m. against the Portland Trail Blazers.
The Suns will play at least five games. They are scheduled to play the Boston Celtics on Sunday and the Miami Heat on Tuesday to determine seeding for the bracket-style championship rounds.
Guard Devin Booker, an NBA All-Rookie team selection, is the headliner on the Suns roster. The remainder of the roster includes:
Guards Askia Booker, Michael Bryson, Kyle Kuric and Shannon Scott.
Forwards Alan Williams, Derek Cooke, Richard Solomon and Troy Williams.
Center Alec Brown.
The team will be coached Nate Bjorkgren.