Suns prepare for No. 4 pick while trade rumors swirl -- as usual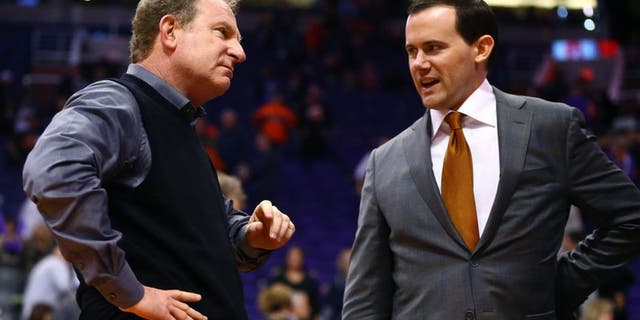 NEWYou can now listen to Fox News articles!
PHOENIX -- "Tanking" the season didn't quite get the desired results for the Phoenix Suns.
They entered the draft lottery with the second-best odds to land the No. 1 pick. Instead, they are back at No. 4, a spot the Suns may have occupied anyway even if they hadn't benched a healthy Eric Bledsoe for the final 15 games of the season.
Still, it's a high pick in a draft that Suns general manager Ryan McDonough rates as among the best he's seen.
"This is my 15th draft now in the NBA since 2003," he said, "and this is one of the top two or three groups. I felt that way throughout the college season and coming into the pre-draft process and feel even more strongly now after watching a lot of these guys work out and studying film."
Trade rumors involving the Suns swirled as Thursday's draft approached. In an interview on Monday, McDonough said a trade was "less than likely, but you never know."
"We're very comfortable at four," he said.
So, figure on a team that fielded the youngest lineup ever at one point last season to get even younger as it resumes what has been a painstakingly slow process to get the franchise back to relevance. The Suns haven't made the playoffs the last seven seasons.
Any one of four players may be in play when Phoenix makes its pick: point guards Lonzo Ball and De'Aaron Fox and small forwards Jayson Tatum and Josh Jackson.
The Suns didn't even try to work out Markelle Fultz, the player expected to go No. 1 to Philadelphia.
They haven't ruled out the possibility of the Los Angeles Lakers passing on Ball at No. 2, though.
Of the four players, the UCLA sensation with the talkative father is the only one McDonough hasn't seen in a pre-draft workout.
But that doesn't rule Ball out as a possibility.
"We would draft somebody without a workout," McDonough said.
Last year, the Suns came away with two big forwards with lottery picks, Dragan Bender at No. 4 and Marquese Chriss at No. 8, thanks to a draft-night trade with Sacramento.
If Fox is drafted by the Suns, he would be the fifth Kentucky player on the roster.
But if the Suns draft a point guard, it would raise questions about the status of Bledsoe, who along with shooting guard Devin Booker is arguably the team's best player. But a point guard picked at No. 4 would be expected to play, a lot, and that could put Bledsoe on the trading block.
The 19-year-old Fox, a blur in the backcourt with his speed, averaged 16.7 points and 4.6 assists per game in his one season at Kentucky. But he is still raw as a playmaker.
The Suns could use a small forward, for sure, and there's a strong possibility that Tatum or Jackson will be there at No. 4.
There were strong hints, though, that the Boston Celtics, who traded out of the No. 1 spot, will take Tatum, the 6-foot-8 smooth-shooting player from Duke, at No. 3.
That would leave Jackson, the 6-8 player from Kansas. Jackson averaged 16.3 points per game for the Jayhawks, but defense is considered his biggest strength entering the draft. His long-range shooting is suspect, but otherwise the 20-year-old's overall game is considered NBA-ready.
Jackson seems to have trouble controlling his temper at times, on and off the court.
He was arrested after kicking and damaging a vehicle occupied by a Kansas women's basketball player on Dec. 9 outside a bar in Lawrence. He kicked out a tail light and dented the driver's door while the woman was in the car.
Jackson signed a diversion agreement in April, agreeing to take anger management classes and do community service.
He spoke about the anger management class after a workout in Los Angeles, saying he has learned a lot from it.
McDonough wouldn't talk specifically about Jackson's case but said the team does extensive background checks on prospective draft choices and found nothing that would remove any of the top tier players from consideration.
The Suns also have the second pick in the second round, 32nd overall, and McDonough expects to find a good player there, especially considering the depth in this year's draft. Several potential picks at that spot worked out in groups for the Suns in recent weeks.
Phoenix also has the 54th overall pick.