Suns fall 2 spots, will pick 4th in NBA Draft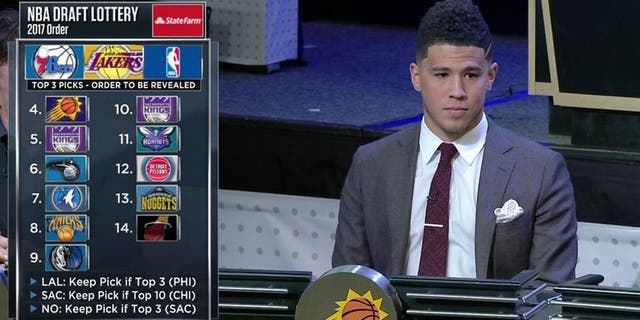 PHOENIX -- The Phoenix Suns fell two places in the NBA Draft Lottery and will pick fourth in the June 22 draft.
The Boston Celtics, who held the rights to the Brooklyn Nets' first round pick, won the lottery and will pick first, followed by the Los Angeles Lakers, who jumped one spot, and the Philadelphia 76ers, who had the right to swap places with Sacramento.
"It's kind of what I anticipated," Suns general manager Ryan McDonough said. "Obviously we would have loved to move up, but this isn't a two- or three-player draft. There's not a huge dropoff in my opinion after one, two, three."
Most experts believe point guard Markelle Fultz and Lonzo Ball will be off the board in the first three picks, but the Suns could have a shot at the draft's top wing players -- Kansas' Josh Jackson and Duke's Jayson Tatum. Kentucky guard De'Aaron Fox is also projected in that range.
McDonough said he doesnt anticipate trading the pick, but the phone lines, as always, will be open.
"I think we'll receive more calls than we'll make," he said. "I feel every comfortable with where we are, and I think we'll get a very good player at No. 4."
The Suns also had the No. 4 pick last season and used it to select forward Dragan Bender.
Their draft history includes three other No. 4 picks: Alvan Adams in 1975, John Shumate in 1974 and Corky Calhoun in 1972.
In addition to the fourth overall pick, the Suns possess their own second-round pick (32nd overall) and Torontos second-round pick (54th).
Sacramento will pick fifth and 10th. Orlando is sixth, followed by Minnesota, New York and Dallas.