Sunday's Titans-Dolphins game could be moved to Nashville amid hurricane threat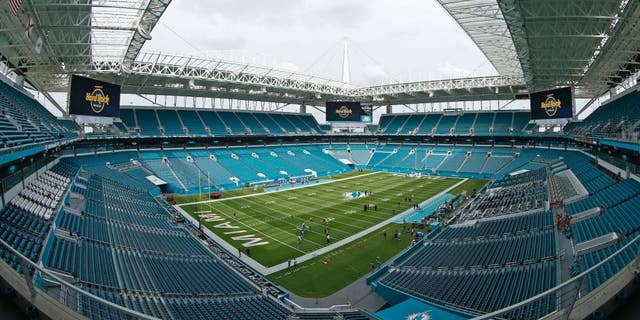 NEWYou can now listen to Fox News articles!
Playing in South Florida, the Miami Dolphins are no strangers to extreme weather. Whether it's scorching hot days with unfathomable humidity or severe lightning, Miami has seen it all. However, some weather events are simply impossible to play through -- like a hurricane.
Hurricane Matthew is heading north towards the U.S. and it could have an impact on Sunday's game between the Dolphins and Tennessee Titans, which is supposed to be played in Miami.
The two teams have discussed moving the game to Nashville, though nothing has been determined as of yet.
"We're watching the weather with the hurricane that's going on down there," Titans coach Mike Mularkey said Tuesday on the Mike Mularkey Show on 104.5 The Zone. "There may be some weather issues. There's a very slight chance that game could be moved up here. There's been some discussion because of it."
Currently, Florida and the Carolinas are under a state of emergency, and after seeing the damage Hurricane Matthew has done in the Caribbean, it's easy to understand why. Hard Rock Stadium has been completely remodeled and is designed to withstand a Category 4 hurricane.
That's currently what Matthew is being labeled as, so while the game may not be played there, the stadium should remain standing.