Sunday drive: Martinsville delivered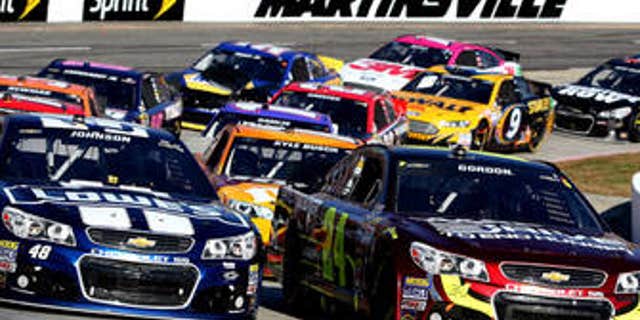 It was a perfect weekend for racing at Martinsville Speedway, one of the most challenging tracks on the NASCAR circuit, and the action didn't disappoint on or off the racing surface.
Some musings from the weekend:
Jeff Gordon's season has had some remarkable ups and downs. When he left Richmond after the last race of the NASCAR Sprint Cup regular season Gordon wasn't even in the Chase for the Sprint Cup. When he was let in at the last minute, he went in as the 13th seed. Now, with his big victory in the Goody's Headache Shot 500 at Martinsville on Sunday, he's all the way up to third in points.
If you'll recall, after Gordon was admitted to the Chase in Chicago, several drivers objected, saying the field shouldn't have been expanded. One of those was Gordon's own teammate, Jimmie Johnson. "Of course I'm very happy that Jeff is in the Chase," Johnson said. "In my opinion, though, I believe there should be 12 cars. One in-one out should be the deal."
Why the objection? Simple: One more driver is one more guy you have to beat. And Gordon is not going away quietly. Is he a longshot to win his fifth championship? Very much so. Still, he's been a compelling story so far.
- Johnson and Matt Kenseth, the sport's two big dogs, continue to punch and counter-punch as the Chase heads towards its big finale at Homestead-Miami Speedway. Through seven races, the two are exactly even in points, the first time that's ever happened after seven Chase races. Interestingly, Johnson has the better average finish in the Chase, 5.285 vs. 6.428 for Kenseth. But Kenseth came into the Chase with a three-point lead and led the most laps in three of the Chase races. Gee, maybe those bonus points do matter.
> Whoever loses, though, is going to know that they left points on the table at a couple of races, especially Talladega, where Kenseth and Johnson both had their respective worst races of the Chase.
- No one left Martinsville more disappointed than Kyle Busch, who finished 15th and for all intents and purposes is now out of championship contention. Yes, I know, he's still within one race of the leaders in terms of points. But with Kenseth and Johnson so consistently strong, passing both of them will be all but impossible. Too bad for Busch, who may end the season higher in points than he's ever finished before. It would have been interesting to see him in the title fight all the way to Homestead.
- When Ford Motor Co. signed Penske Racing for 2013, it was clear that winning the NASCAR Sprint Cup Series Manufacturers' Cup Championship was a top priority. And adding Penske would at long last give Ford two top-tier teams to contend for the title. It didn't work out that way, though, as Chevrolet clinched an 11th straight title Sunday.
- Want four words to define Dale Earnhardt Jr.'s season? How about "good but not great?" For the fifth time in the last six races, Earnhardt finished in the top 10 on Sunday. But he lost ground to the points leaders, both of whom finished in the top five.
- It was exciting to watch Darrell "Bubba" Wallace Jr. win the NASCAR Camping World Truck Series race on Saturday and do it just 30 miles away from the home of the late pioneer Wendell Scott. It was emotional Sunday morning listening to Scott's family talking about what Wallace's victory meant.
Make no mistake about it, this was a huge step for NASCAR's diversity program. And the success of the NHRA, which has already had African-American, Hispanic and female champions -- not just race winners -- is a good reminder that there's still a long way to go.
The original article can be found at FOXSports.com: Sunday drive: Martinsville delivered.