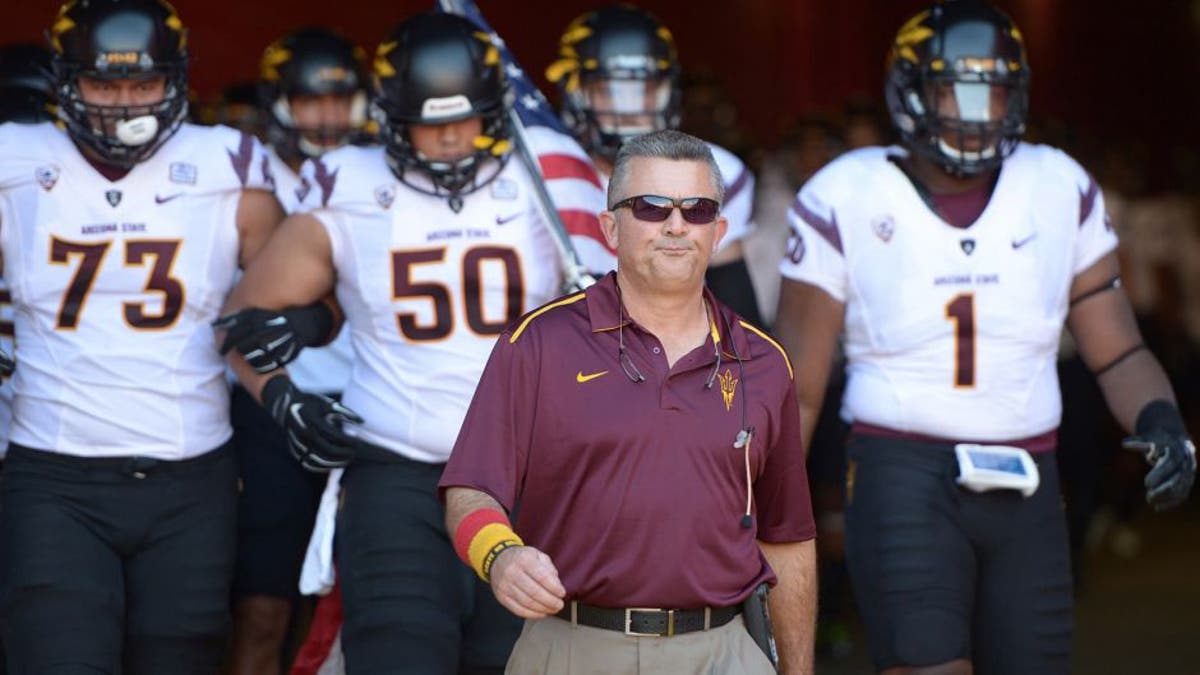 TEMPE, Ariz. -- Arizona State coach Todd Graham is eternally positive, whether it's praising his team to the media, boosting the morale of a player or praising an assistant coach.
Sometimes there's a little hyperbole that comes with it, but that's part of Graham's charm, what makes him such a good salesman of his players and his program.
His sales pitch on this year's team might be right on the mark.
"I've got a tremendous belief in this football team," Graham said. "It's the best football team that we've had since we've been at Arizona State. The character, the discipline, the speed, the athleticism, just being in our fourth year, it's just a special time and special group of young men."
He's got plenty of reasons to be optimistic.
Arizona State has gone through a revitalization since Graham arrived, setting a school record with 28 wins its first three seasons under the fast-talking Texan. The Sun Devils won 10 games in consecutive seasons and played for the Pac-12 championship in 2013. Last season, Arizona State beat Duke in the Sun Bowl and finished 12th in The Associated Press Top 25, its highest season-ending ranking since 1996.
Expectations are even higher this season.
The Sun Devils still have dynamic offensive players, led by quarterback Mike Bercovici, who proved to be ready for the spotlight when called into action last season. Versatile senior D.J. Foster skipped a shot at the NFL for another season at ASU and running back Kalen Ballage could turn into a star after a solid freshman season.
There are some questions at receiver, particularly with Jaelen Strong gone, but Graham's high-octane offense rarely fails to put up big numbers.
The big difference could be on defense.
The Sun Devils have nine returning starters, including all four linebackers. Arizona State has depth on the defensive line and playmakers in the secondary.
Put them all together, it's no wonder Graham is touting this team so much.
"Our players understand that being the Pac-12 champions is the minimal expectation; and that's exactly the way I want it," Graham said. "We haven't won it yet. We've won the South and we've competed every year, but to me, how you win it is expecting to win it. I think our guys believed they could win up to until this point. I think there's an expectation now."
A few other things to keep an eye on heading into the 2015 season:
BERCOVICI'S TURN: Bercovici lost a tight battle with Taylor Kelly and spent the past two seasons as his backup. But it wasn't all just mop-up duty. When Kelly injured his right foot against Colorado, the big-armed Bercovici filled in nicely, setting an NCAA record by throwing for 998 yards in his first two career starts. He ended up starting three games and threw for 1,445 yards and 12 touchdowns on the season, so the Sun Devils should be in good hands.
BACKUP QB: One of Graham's biggest concerns is who's behind Bercovici. A year ago, he wasn't worried because Bercovici was behind Kelly and played well when Kelly got hurt. This season, Arizona State's roster has three unproven players behind the starter: redshirt freshman Manny Wilkins and freshmen Bryce Perkins and Brady White. Should Bercovici get hurt, one of those players will have to step up in a hurry.
FOSTER'S ROLE: Foster bounced around to several positions his first two seasons and started last season as Arizona State's primary running back, though he still moved around quite a bit. The big-play threat will move to slot receiver this season, but expect him to get touches all over the field.
SCHEDULE: Arizona State has the type of schedule that could put it in the College Football Playoff hunt. The Sun Devils have a big neutral-site game out of the gate, facing Texas A&M in Houston on Sept. 5. Win that resume-builder, Arizona State plays its three toughest conference games at home, against USC, Oregon and rival Arizona. Get through that in decent shape, the Sun Devils should be in position to reach Graham's goals of winning Pac-12 and national titles.