Sun Devils get back on track with win over UCLA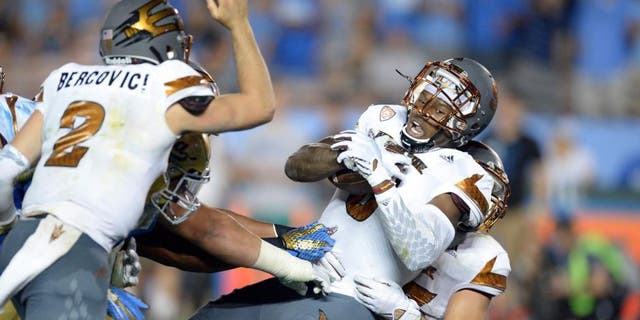 NEWYou can now listen to Fox News articles!
TEMPE, Ariz. -- Kalen Ballage took a handoff up the middle and was stood up by a UCLA linebacker. Arizona State's running back spun around from the impact, but kept his legs churning, even as he was headed backward.
As Ballage kept going, his teammates started latching onto the pile, one pulling him from behind, several others pushing from the front. Quarterback Mike Bercovici even joined in, grabbing a UCLA player from the side to help the pile along.
What initially looked like a 5-yard gain turned into a 23-yard, everyone-falls-into-the-end-zone touchdown that sealed Arizona State's road victory over then-No. 7 UCLA Saturday night.
"It was just a play where you see our guys finish to the end of the play, and then you see some of their guys stop," Arizona State coach Todd Graham said Monday. "That was kind of a play that epitomized, I thought, our guys' will and focus and determination that we were going to get it done."
The Sun Devils were in desperate need of a win after being blown out by Southern California at home the week before.
Arizona State has had a knack of bouncing back from difficult losses, beating USC in 2013 after being run over by Stanford the week before, knocking off the Trojans again last season on a Hail Mary after losing to UCLA.
The Sun Devils did it again Saturday night, keeping their composure in front of 80,000 fans at the Rose Bowl to pick up a confidence-building victory after being crushed by USC a week earlier.
"It's not surprising for this football team because we do have guys on this team that have been in this situation before," Bercovici said. "It's just exciting to know that we can put it together."
The impetus for the victory started with Tuesday's practice.
Graham and his coaches decided to simplify practice a bit and just let the players go after it. They did, practicing with an intensity that told the coaches that they were ready to pull together a full game for the first time this season.
"I know you guys get tired of me saying that, but we always have the best practice we've ever had. Everybody thinks I say that every week. Well, actually it was true last week," Graham said. "Our guys do practice well, but it was a different deal last Tuesday. It was really different, and I think there was a sense of urgency, and pretty sick and tired of not playing to our potential."
The Sun Devils' potential had them pegged as a trendy pick to make the College Football Playoff and had Graham calling it the best team he's had.
Arizona State failed to live up to those expectations, losing to Texas A&M to open the season, pulling out not-so-convincing wins over Cal Poly and New Mexico, then falling flat against the Trojans.
The Sun Devils showed what they're capable of at the Rose Bowl, taking down a top-10 team with easily its best all-around game.
Arizona State's offensive line protects Bercovici well and he was good at getting rid of the ball quickly. He was pretty good at connecting with his receivers, completing 27 of 44 passes for 273 yards and two touchdowns, and added a 34-yard touchdown run.
The Sun Devils were steady on defense, shutting down UCLA running back Paul Perkins and the nation's No. 22 rushing offense. Perkins had 63 yards on 18 carries -- 29 of those on one attempt -- and the Bruins had 62 overall.
Arizona State even got a good game from its special teams, a unit that has been much maligned pretty much since Graham arrived. Tim White had some dazzling returns and punter Tom Haack was named the Pac-12's special teams player of the week after dropping five of his eight punts inside the 20-yard line, including one that pinned the Bruins at the 1-yard line with 5 minutes left.
"Obviously, our backs were against the wall," Graham said. "Your character gets exposed when you face great adversity and I think our guys showed what they're made of."
The Sun Devils hope to build off it, starting with Saturday's home game against Colorado.