Sullivan still contributing despite limited role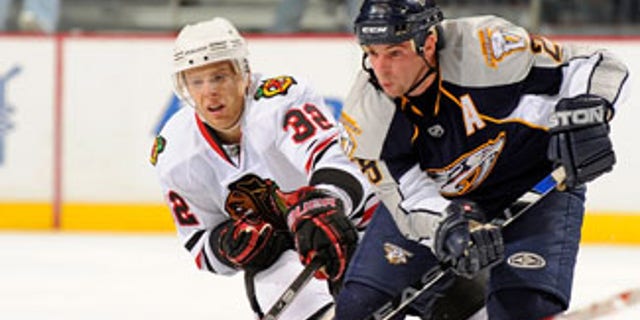 NASHVILLE -- The oldest member of the Predators also is one of their most dangerous players offensively.
Nonetheless, Steve Sullivan has been reduced to a bit of a supporting role thus far in Nashville's Western Conference quarterfinal series with Anaheim, averaging only 7:36 of time on ice while playing on the fourth line with rookies Blake Geoffrion and Matt Halischuk.
Sullivan only played 44 games during the regular season and just once after Feb. 24 -- the second-to-last game of the season. Both Sullivan and Predators coach Barry Trotz say that the left wing is healthy now after undergoing a surgical procedure to fix an abdominal problem.
Nonetheless, Trotz is taking it slow with a player who entered this season ranking No. 5 all-time in franchise history in assists. The 5-foot-8, 161-pound Sullivan has had his share of injuries in the past, including a debilitating back injury.
"With Stevie in the past, he's come back too early, I would say, in some of the series and he had really, really limited his effect on the series, if any," Trotz said. "Going into the series, he came back right at the last minute. … The longer he skates and has no ill effects from his injuries and all that, the more confident I get in what he's doing and I think he feels more comfortable, so, yeah, he hasn't played what in terms of minutes what you expect to see Steve Sullivan play, but I think when he's been out there he's been pretty dangerous and that line's been giving us some good shifts.
"I think as you go along there, he's 100 percent healthy and there's no problems there, you'll see me have a little more confidence in going forward."
Despite the limited ice time Sullivan scored what turned out to be the game-winning goal in a 4-1 victory for Nashville in the series opener. Sullivan has averaged only 31 seconds in the three games on the power play -- not much at all when compared to Shea Weber, who has averaged 6:42 for Nashville with the man advantage.
"We've got a good team right now that's going well and you don't want to mess with that kind of chemistry like that, so I'm just putting my time in and just trying to get back to game speed and trying to get into back into shape," Sullivan said. "It's tough when you play half a season and try to catch up and be ready to go after being out that long, so just take it a game at a time."
Sullivan said he doesn't mind a reduced role and is OK with it.
"Yeah, absolutely, you have to be," he said. "It might take 20 guys, it might take 23 guys because you never know what it takes to go as far as you can. Everyone's got to pull on the rope the same way and make sure we're all on the same page, and everyone has a role to fill and doing your job when you're in that role."
Sullivan is three months away from turning 37 and yet with all he has gone through he remains effective, finishing the regular season with 10 goals and 22 points.
Trotz said Sullivan's is a unique story. He played only 57 games in 2006-07, missed all of 2007-08 and then played just 41 games in 2008-09 -- 98 regular-season games in three seasons.
"With especially missing 18 months there and coming back and playing and he's not the biggest guy," Trotz said. "He relies on an ability to get around and be pretty mobile. And when you've had a back injury, anybody who's had one, you know you're not very mobile and it not only affects your legs, it affects your midsection, your balance, your speed, everything -- and he's fought through that the last couple of years and he's a real good story.
"He came back in every game and in every practice he looks like he's got more and more of that speed that he's known for."