Sulley Muntari's ban for protesting racism rescinded by Italian FA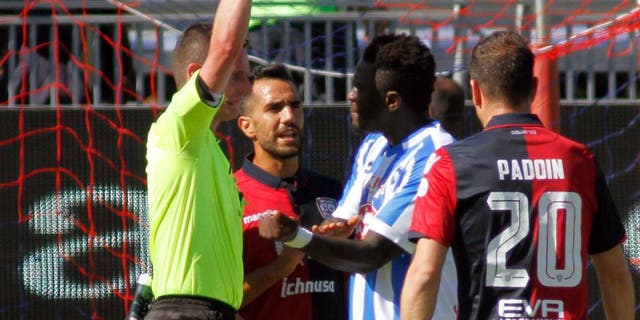 Italy's governing soccer body has lifted the one-match ban Sulley Muntari faced after the Ghanian walked off the pitch amid racist abuse from fans against Cagliari.
In Sunday's 1-0 loss at Cagliari, the Pescara player said he spotted a child lobbing racist insults. In an effort to try and curb the abuse, he offered the child his shirt.
There was a little kid doing it with his parents standing nearby, Muntari told the Guardian. So I went over to him and told him not to do it. I gave him my shirt, to teach him that youre not supposed to do things like that. I needed to set an example so he grows up to be nice.
(The referee) told me I should not talk to the crowd. I asked him if had heard the insults. I insisted that he must have the courage to stop the game, Muntari added. The referee should not just stay on the field and blow the whistle, he must do everything. He should be aware of these things and set an example. I am not a victim. But if you stop the matches I am convinced that these things wont happen anymore."
Muntari received a yellow card for the incident and then another when he left the pitch in protest. The two yellow cards meant a red card for Muntari, and red cards carry an automatic one-match ban. The players' union, FIFPro, quickly released a statement condemning the actions of the fans and the referee and called for the yellow cards to be rescinded.
On Friday, the Italian FA rescinded the ban, allowing Muntari to be eligible for Pescara's match against Crotone on Sunday.