Suh: Dolphins have more talent on defense than Lions did last year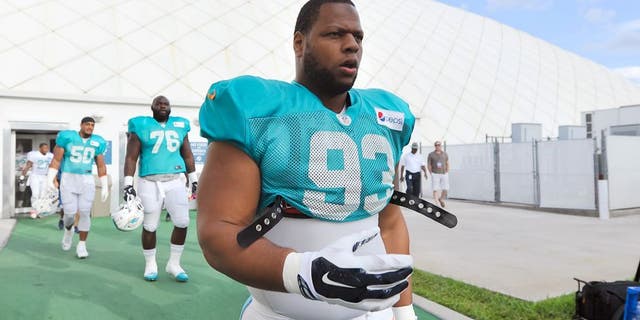 Miami Dolphins defensive tackle Ndamukong Suh is no stranger to playing on a top-ranked defense. Last season, Suh and the Detroit Lions had the No. 2 defense in the league as far as yards per game, but were No. 1 in rush defense.
Suh is hoping -- no, he knows -- that the Dolphins can be better than the Lions were last season. According to Suh, the Dolphins have more talent on defense than the Lions did last year.
"I don't have a problem saying this, but I think personally that we have more talent [in Miami] than we had in the No. 1 defense last year in Detroit," Suh told reporters, via James Walker of ESPN. "So, by that saying, you would say we should have the No. 1 defense this year. But that's not going to happen [because] we don't know what's going to happen until guys come together, understand what they're going to do and then you create a camaraderie."
There's no doubting that the Dolphins have a ton of talent on defense -- particularly the offensive line -- but they have to stay healthy. They have sustained injuries to linebacker Koa Misi, safety Louis Delmas, as well as cornerback Jamar Taylor.
If the Dolphins can't stay healthy, it will be hard to be the top-ranked defense, even with Suh, Olivier Vernon, and Cameron Wake.
"One of the reasons why I came here is because this team, especially this defense, has great, great talent," Suh said. "Now that we put this together, we don't play on paper. We don't get to go against Atlanta or the Washington Redskins in our first [regular-season] game and say, 'Here, this is our paper. This is our talent [and] this is your talent. We win because on paper we look a little bit better than you.'"
Suh clearly knows that the game is played on the field and not on paper, and understands that the defense has to play as a unit to succeed. The Dolphins defense looks strong on paper, but we'll have to wait and see how it looks on the field.
(h/t ESPN)