Subway, trains hit by strike in Brazil's Sao Paulo 1 week before World Cup opener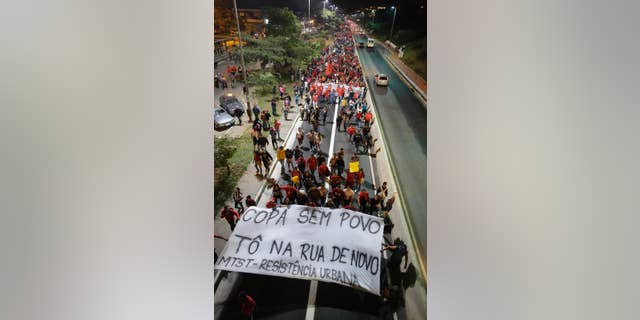 NEWYou can now listen to Fox News articles!
SAO PAULO – The Brazilian city that will host the World Cup's opening match in a week was thrown into transit chaos Thursday as subway and overland commuter train operators went on strike, putting at risk the only means that most soccer fans will have to reach the stadium.
The strike stranded many of the 3.5 million people who use Sao Paulo's public transport systems on an average weekday.
Enraged passengers kicked in large doors at some stations when they arrived to find them closed for their morning commute.
The station nearest the Itaquerao stadium that will host the Cup's opening match on June 12 was damaged by irate commuters who kicked down the metal barriers at two entryways.
Angry passengers jumped onto the tracks to protest at some stations, though they dispersed when police arrived.
Others rushed to bus stops to squeeze into the packed vehicles and make their way to work.
Thursdays strike follows others by bus, subway and overland train operators that have frustrated passengers.
"The strikes ... are getting on my nerves," said Silvia Rodrigues da Silva, who manages a small coffee shop in central Sao Paulo. "The subway station nearest my house was closed so I had wait for more than an hour to get into an overcrowded bus to come to work."
Late Wednesday a judge ordered the train operators to work at full capacity during rush hours, and at 70 percent capacity in off hours. Union members voted to go ahead with the strike anyway, despite the judge ordering that the union be fined $44,000 each day it ignores the ruling.
In response to the strike, Sao Paulo's government suspended a rule that restricts passenger cars from entering the central part of the city.
That led to extreme congestion on main roadways, with the government's transit authority saying the city was seeing its worst traffic of the year so far.
Sao Paulo is notorious for congested roadways and crowded public transport, the failures and costs of which have stoked protests over the past year.
Massive demonstrations that overtook many Brazilian cities last June were initially sparked by a violent police crackdown on marchers calling for the reversal of a hike in public transport fares.
___
Associated Press writer Bradley Brooks in Rio de Janeiro contributed to this report.