Subban ready to face Bruins on big stage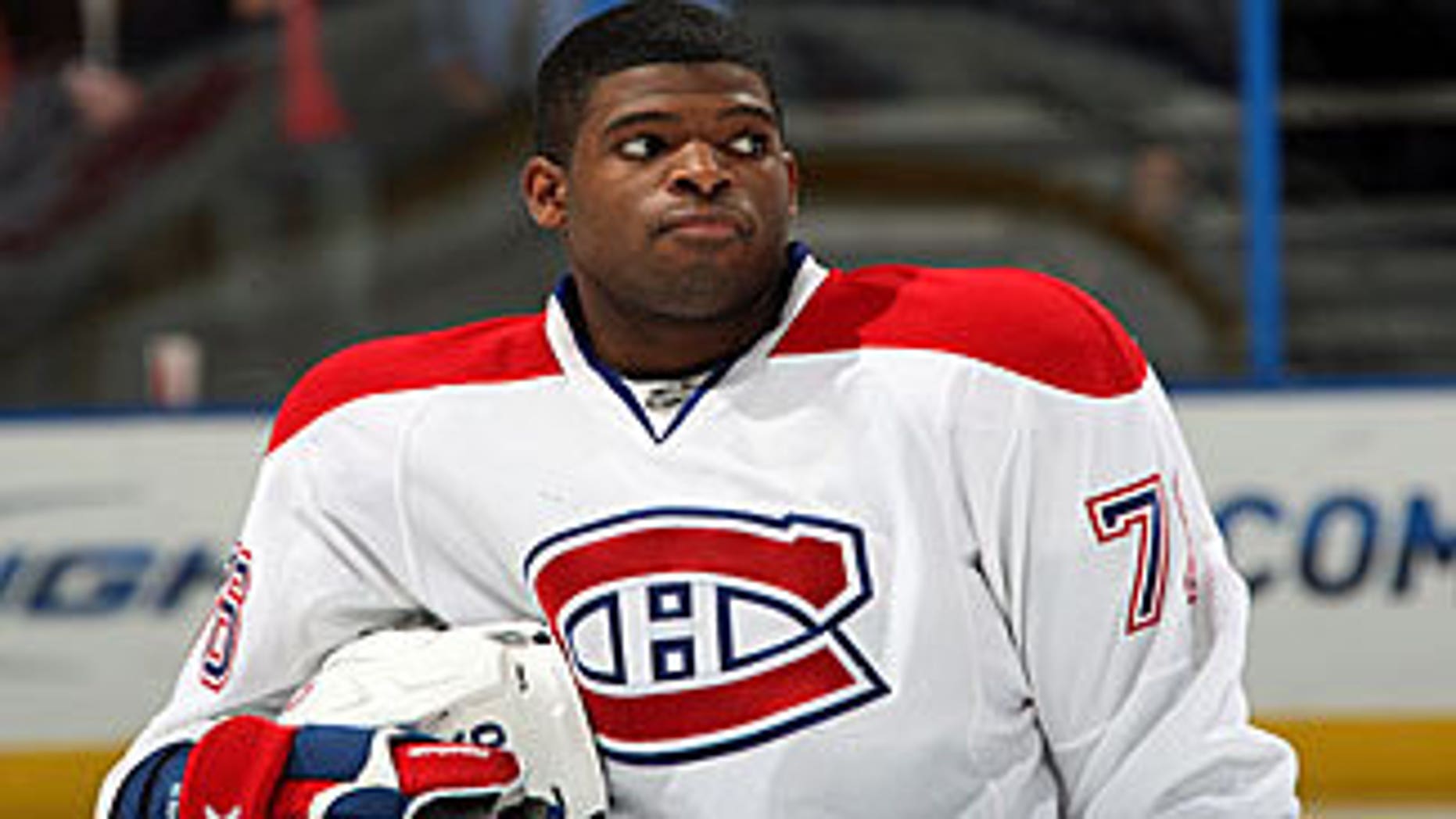 BROSSARD, Que. -- Ever since P.K. Subban rocked Boston Bruins rookie Brad Marchand with a thunderous open ice hit back on Dec. 16, the standout Montreal Canadiens rookie defenseman has been at the center of the most heated rivalry in the NHL today.
The Bruins consistently targeted Subban in each of the four games between the clubs since that hit, and that's unlikely to change now that they are facing off against the Canadiens in the playoffs.
Subban's defense partner wouldn't have it any other way.
"He's one of our best players, so I assume he would be (targeted)," Hal Gill said Wednesday after practice. "I'd be disappointed if he wasn't."
The Bruins, and Marchand in particular, have made no effort to hide their disdain for Subban, but he generally brushes aside the unwanted attention.
"Whether it's playing in junior or playing in the NHL playoffs, we've all been in this situation before," Subban said. "It's a little bit more magnified in the NHL, but I've been in this situation before. If you're going to be a big part of your team, the other team is definitely going to try and get you off your game."
His good buddy Carey Price says not only is Subban not bothered by Boston's effort to get him off his game, he revels in it.
"I don't think it affects him at all, I think he actually enjoys it," Price said Tuesday. "P.K. doesn't really care about what anybody thinks, so I don't think it will affect him a whole lot."
Whether he thrives on it or not, it's clear that Subban and Gill will be the two players charged with attempting to neutralize the Bruins' biggest advantage in the series – their top forward line of Milan Lucic, David Krejci and Nathan Horton.
Lucic had 4 goals and 5 assists in the six games against the Canadiens this season, Horton had 3 goals and 4 assists and Krejci had 7 assists – though the great majority of that production came in the last two games in Boston, in which the Bruins scored 15 goals.
Still, Lucic's unique combination of size and skill presents a tremendous challenge to the Canadiens, and coach Jacques Martin is likely to send his top defense pair out against him more often than not.
But Martin was quick to emphasize that dealing with a physical specimen like Lucic or Zdeno Chara is not a job for one man, or even two.
"The most important part is for us to play within our strengths and to also have the full team committed to playing well," Martin said. "Finishing checks when it's time to finish checks, but when you're dealing with players like Chara and Lucic who have a size advantage, the way to counteract that is through positioning and good stick work. You have to use your assets that favor you."
Subban is also at the heart of the main asset Martin was referring to, and that's speed. The Canadiens are determined to make the series one in which they move the puck quickly enough out of their own zone and into the Bruins' end to neutralize the effectiveness of Boston's top line, and Subban and James Wisniewski are both experts in that area.
But both Martin and Price have alluded to some sort of secret plan the Canadiens will employ to keep Lucic out of the crease.
"We're definitely aware of their big bodies in front, and we've got a plan to combat that," Price said. "I can't tell you what it is, obviously, but we're aware of their size and their strength and their ability to go to the net."
Whatever that plan is, Gill and Subban are the ones who will be called upon most often to execute it.
The two are probably the most unlikely coupling of players you could possibly see. Gill is a lumbering skater, Subban has extraordinary quickness. The less time the puck is on Gill's stick, the better, while every time the puck is on Subban's stick, crowds at the Bell Centre start chanting his name.
But as strange as this pairing appeared to be when it was formed following the season-ending knee injury to Josh Gorges around Christmas, it has become an integral part of any success the Canadiens have had.
Gill and Subban draw the most difficult defensive assignments every game, they play on the top penalty killing unit, and Subban is one of the most dangerous power play point men in the League.
Most 21-year-old rookies may have some trouble handling the pressure of being in the spotlight the way Subban has been all season. Having Gill as a mentor has helped him learn how to manage it – although Subban probably doesn't need the help, because he has the type of personality that lives for moments just like this one.
"Who doesn't want to be on the biggest stage playing in the playoffs?" Subban asked. "This is where guys have made names for themselves, guys have made careers just by playing well in the playoffs. It's a great time of the year, and I'm just happy I can be a part of it."
He won't only be a part of it. He'll likely be right in the middle of it.