Suarez involved in tunnel bust-up with Espanyol players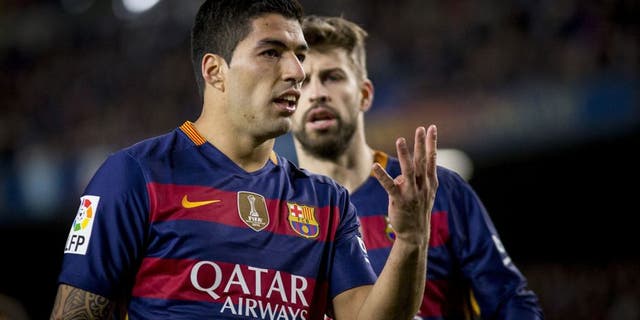 Luis Suarez could face disciplinary action after his involvement in a scuffle with Espanyol players after Barcelona's 4-1 victory in the Copa del Rey on Wednesday evening.

Lionel Messi's double was followed by goals from Gerard Pique and Neymar to seal victory at Camp Nou but Espanyol had both Hernán Pérez and Pape Diop sent off in a fiery second half.

In the official referee's report, Suarez is alleged to sparked a clash between both sets of players in the tunnel after the end of the match.

"Once in the tunnel, Barça's No. 9, Suarez, Luis, while the Espanyol players were coming up the stairs, waited for them and shouted at them on various occasions," read the report. "He [Suarez] said: 'I'm waiting for you, come here! You're a waste of space.'"

"It provoked a confrontation between players of both clubs and the present security guards had to get involved, as did coaches of both teams."

The referee, Juan Martinez Munuera, also claimed in his report that Diop was "sent off for directing the following words at an opponent - 'I sh*t on your wh*re mother.'"