Studs and Duds: Who shined and who flopped?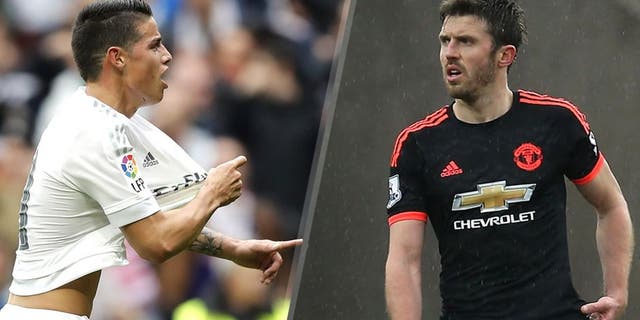 Who won the weekend? And who stunk out the joint? FOX Soccer fetes the stars who shone and shames the players who simply didn't show up. Here are Saturday's studs and duds in Europe:
STUD: Wahbi Khazri, Sunderland
A fine day for Khazri, who opened his account with Sunderland and got the Black Cats a famous – and massive – win over Manchester United. Khazi scored the opener and set up the winner, cruelly credited to David De Gea, with his canny dead-ball plays. The result boosts Sunderland's chances of survival and surely will give them confidence going forward.
DUD: Michael Carrick, Manchester United
Simply awful all game long, Carrick was consistently late on tackles, and looked badly outplayed by Sunderland's front three. Everyone has an off day, and Carrick certainly is entitled to one – but with United in a spiral, this was not a good day to go AWOL.
STUD: James Rodriguez, Real Madrid
An assured day out for the under-fire James, the Colombian starlet scored a fantastic goal to lead Real to a big win against Athletic Bilbao. James put in a solid shift to silence his critics and put Real back into a very tight title race in Spain.
DUD: Xabier Etxeita, Athletic Bilbao
Roasted all game long by Cristiano Ronaldo, especially on the opener, Etxeita looked a man who wished the earth would open and swallow him by game's end. Ronaldo blew past him as if he was standing still (he wasn't) to score a fine goal, and all game long he was pulled out of position.
STUD: Stuttgart
Jurgen Kramny's side moved up to tenth with their fifth win in a row Saturday, their season pivoting dramatically from a relegation battle to potentially European qualification. Serey Die and Filip Kostic scored second-half goals to keep Die Roten on a seven-game unbeaten run in the Bundesliga.
DUD: Raphael Varane, Real Madrid
A poor day out at the office for Varane: he made an ill-judged back pass to Keylor Navas that allowed Javier Eraso an easy goal; he was then sent off for a second yellow with seven to play. Real won, but Varane will wish to forget about this outing as soon as possible.
STUD: Willian, Chelsea
The Brazilian has been the Blues' player of the season and today he was in particularly fine form against a woeful Newcastle side that couldn't get out of its own way. Willian scored one goal and set up another in a man of the match display to keep Chelsea rising toward the top half of the table.
DUD: Fabricio Coloccini, Newcastle
There were so many inept performances from the Toon on Saturday that it's hard to actually pick just one man. But Coloccini, who is supposed to be a leader on this squad, endured another torrid afternoon that was particularly damaging to his team's survival hopes. Culpable on two goals and seemingly unable to marshal his compatriots, Coloccini's form has dropped alarmingly over the past month. He's simply not good enough.
STUD: Simone Zaza, Juventus
The sub scored a vital late goal Saturday to win the game for the Old Lady and take Juventus back atop Serie A. The result completed a remarkable comeback for Juve, who began the season mired at the bottom of the table. This result against high-flying Napoli may prove to be decisive down the stretch. Zaza's goal was cruel on Napoli as it took a heavy deflection, but they all count.