Struggling Buccaneers hoping healthy McCown can spark sputtering offense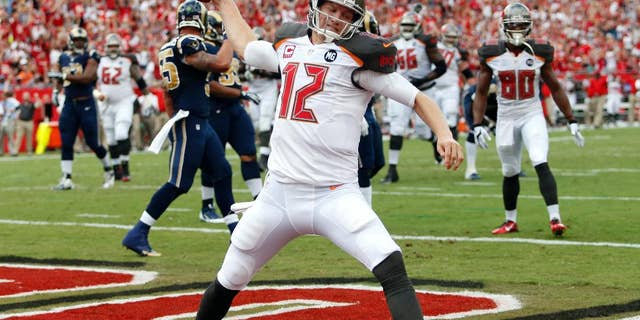 TAMPA, Fla. – Hoping to spark one of the NFL's least productive offenses, the Tampa Bay Buccaneers are turning back to Josh McCown at quarterback.
The 12th-year pro started the first three games of the season, but has missed the past five after injuring the thumb on his throwing hand.
McCown's return Sunday against Atlanta comes with the Bucs (1-7) riding a four-game losing streak. He was hurt during the opening half of a 56-14 to the Falcons on Sept. 18.
Coach Lovie Smith hinted at a change on Monday, then Glennon confirmed the change on his radio show. The Bucs are ranked 31st in total offense and are 26th in scoring.
The 35-year-old McCown has been a backup for most of a career that includes stints with Arizona, Detroit, Oakland, Carolina and Chicago, where he played for Smith, then coach of the Bears. He signed a two-year, $10 million contract with Tampa Bay in free agency and was immediately named the starter.
Smith declined Wednesday to answer "hypotheticals" about whether Glennon's play or McCown health was the main reason for the switch. McCown returned to practice last month and was active, but did not play, the past two weeks while Glennon struggled during losses to Minnesota and Cleveland.
"Josh was the starter before he got hurt. He's healthy and he's back in," the coach said before later conceding the Bucs need more than they've been getting from their quarterbacks.
"I think it's the same with every position. You look at the production, and what we're getting at the time," Smith said. "I think we need better play at the quarterback position. You start with that. ... We need a little boost. It's like that with all positions. If the play isn't what we think it should be, we're going to look and see if there's another option we can look at."
While he's excited about having a second chance to lead the offense, McCown said he has mixed feelings about replacing Glennon, who played his way back to the bench after beating Pittsburgh and performing well in an overtime loss to New Orleans in his first two starts.
"As a competitor, you want to play," McCown said, adding that he still believes Glennon, who started 13 games as a rookie in 2013, has a promising future.
"From that regard you have mixed emotions," McCown added. "But at the same time, as a captain on the team, and a player who's on a 1-7 team, you want to do everything you can to help the team win."
McCown has thrown for two touchdowns and been intercepted four times this year after raising his stock a year ago, when he threw for 13 TDs and was only intercepted once in eight games while filling in for an injured Jay Cutler in Chicago.
He said he wishes the team had been able to win more games under Glennon. At the same time, he acknowledged it's good to have another shot at proving Smith made a good decision by signing him last winter.
"That certainly would be a bad taste in my mouth. But I think at this point, it's about helping the guys come together and find a way to win a ball game. That's what matters," McCown said.
Glennon, who's thrown for 1,417 yards, 10 TDs and six interceptions, said he's taking the decision in stride.
"Obviously, it was disappointing, not what I liked. But I'm going to keep preparing the same way as I always have. .. Whatever I can do to help the team, I'm going to continue to do that," the second-year pro said.
"You wish you could have some throws back. But every quarterback in the NFL wishes he could have some throws back," Glennon added. "I'm not going to let it bother my confidence. I know what I'm capable of doing."
___
AP NFL website: www.pro32.ap.org and www.twitter.com/AP_NFL