Strong runs by non-Chase drivers could make title fight tougher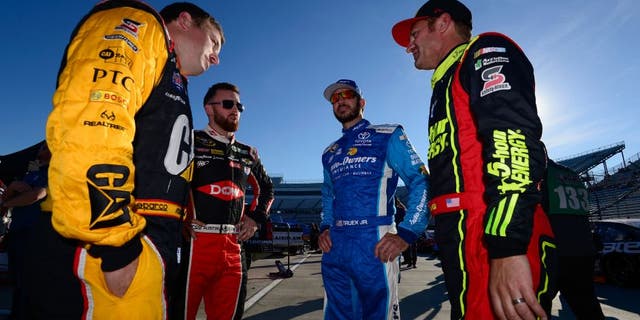 When six of 10 races in the Chase for the NASCAR Sprint Cup now in the books, eight drivers are still alive in the championship hunt.
But 40 drivers will be racing in Sunday's Goody's Fast Relief 500 at Martinsville Speedway, and the 32 not in the Chase present some formidable obstacles to the guys racing for a title.
Martinsville pole-sitter Martin Truex got knocked out of the Chase last week when the engine in his Toyota grenaded at Talladega.
AJ Allmendinger, who qualified fourth, never made the Chase in the first place. But the 'Dinger has finished second here twice and like Truex will absolutely be a threat to win on Sunday.
The guys who qualified on Row 3 are an upcoming star named Chase Elliott and Tony Stewart, a three-time NASCAR Cup champion. Neither is the Chase, but both have fast hod rods.
Jeff Gordon, the defending race winner and nine-time Martinsville winner, will roll off 10th, just ahead of Kyle Larson and David Ragan. All told, seven of the top 12 qualifiers at Martinsville either aren't in the Chase any more or were never there to begin with.
But they are obstacles to victory for the eight Chase drivers. Each of those eight wants to win on Sunday because a win guarantees them they'll have a spot in the final race at Homestead-Miami Speedway in three weeks.
Each of the 32 drivers not in the Chase wants to win, too, because it's what they do. And they will not lay down on Sunday to make it easy for the Chasers.
Unlike last week, when three of the Joe Gibbs Racing drivers hung out at the back of the field at Talladega, all eight Chase racers are going to have to get up on the wheel this week and race hard.
The beauty of this is that the guys who are not in the Chase don't give a rat's hindquarters about the guys who are in. It's every driver for himself or herself right now and that means tight, close-quarters racing, with plenty of bumping and grinding in the process.
"They're all out there trying to win," said Joey Logano, who qualified second behind Truex. "Just because you got knocked out (of the Chase) doesn't mean you're out. You're still out there trying to win races and making something out of it and they still have a lot to race for."
Logano then noted, "I just expect to be out there racing against these guys. They're fast race teams. They're there for a reason."
And if a non-Chase driver steals a victory this weekend or next weekend at Texas or the week after at Phoenix, well, it just might scramble the championship field and that could be interesting.