Strike continues at Rio 2016 Olympic venues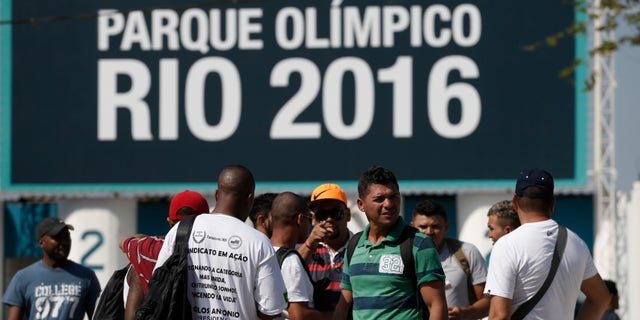 RIO DE JANEIRO – More than 2,000 workers stayed away from venue construction sites for the 2016 Rio de Janeiro Olympics on Tuesday as a strike that began last week continued without an end in sight.
A spokesperson for Rio Mais, the consortium building venues at the Olympic Park, confirmed the work stoppage. It began Thursday in a dispute over which union represents the construction workers, and also involves benefits and working conditions.
"There's no possibility to keep working with the conditions we have here," said Carlos Alberto Oliveira, a leader of the Light Industry Workers Union.
He spoke outside the gates of the Olympic Park -- located about 15 miles west of central Rio -- as workers milled around. He said the strike involved 3,500 people, although Rio Mais has put the number at 2,300.
"People have been working under precarious conditions," Oliveira added.
There was no hint of violence on Tuesday after random gunshots were fired Monday in a run-in between strikers and security guards. No injuries were reported.
The Rio Olympics have been plagued by a late start and delays, and the games top the agenda of a meeting this week in the southern Turkish resort of Belek.
On Tuesday, the head of Olympic summer sports federations called for "urgent action" to tackle delays.
Francisco Ricci Bitti called the situation "very serious" and said "we are scared."
Ricci Bitti heads the Association of Summer Olympic International Federations, which represents the 28 sports in the Rio Games. He also leads the International Tennis Federation and serves on the IOC coordination commission for Rio, which made its latest visit to Brazil three weeks ago.
"We can't always hope in the fact that in the end we will solve the problem," he said. "This time we have the style and the habits of the South Americans. They are not used to managing big events like this. The Olympics is a very different problem from the World Cup. The World Cup in the end is one stadium, one hotel, in many cities. Rio has a lot of problems."
Many of the delays are rooted in disputes among Brazil's three levels of government over who pays for what. Most estimates suggest Brazil will spend about $15 billion on the Olympics, a mix of public and private money.