Stricter security checks in Rio ahead of Olympics stalling travelers for hours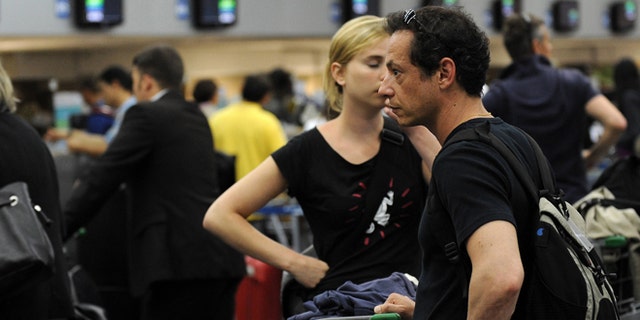 NEWYou can now listen to Fox News articles!
RIO DE JANEIRO (AP) – New, stricter security checks were implemented in Brazilian airports Monday, stalling travelers and delaying flights less than three weeks before Rio de Janeiro hosts the Olympics.
Starting at 6 a.m., long, chaotic lines formed at Congonhas regional airport in Brazil's biggest city, São Paulo. Within a half-hour, more than 700 people were waiting on the building's first and second floors to pass through security checkpoints. The lines eased up by the afternoon.
Smaller airports elsewhere in São Paulo state in southern Brazil also reported problems. There were long lines as well at the Santos Dumont regional airport in Rio de Janeiro, where the games are scheduled to open Aug. 5. International airports have not been affected so far.
The new measures took effect days after the truck attack that killed 84 people in Nice, France, underscoring potential security threats at big events. Authorities say some 85,000 soldiers and police officers will patrol Rio's streets during the Olympics.
Also Monday, a police bomb squad responded to a report of a suspicious bag outside an apartment building in Rio's wealthy Leblon neighborhood. Officers blocked the street and used a robot to inspect the blue sports bag, which turned out to have only clothes inside.
"This kind of thing isn't typical in Brazil," said Sergio Cabreu, a 68-year-old retiree who lives in a building around the corner. "I doubt it's anything, but with the Olympics coming up it's good to find out."
Because of the stricter checks in airports, Brazilian state airport administrator, Infraero, has recommended that travelers now arrive two hours before scheduled domestic flights instead of 30 minutes. At least five flights at Congonhas were delayed Monday, Infraero said.
The new procedures include body searches, removal of electronic items from bags before scanning and more thorough luggage inspections.
Brazil's aviation agency said the steps are necessary.
"Due to this vacation period and with the proximity of the Olympic Games, demand for air transportation will surely increase," the agency said.
Brazilian authorities expect more than 500,000 foreign tourists to visit Rio for the Olympic Games.